It's hard to know exactly what's going on in kids' heads during weddings, but thanks to one flower girl's recap of her brother's nuptials, we may have inched closer to an answer.
On Saturday, Reddit user Shawn Damiano posted a sweet description of his wedding written by his seven-year-old sister, Katerina. She even drew a picture of the momentous occasion, which took place in Orlando last month -- check it out below.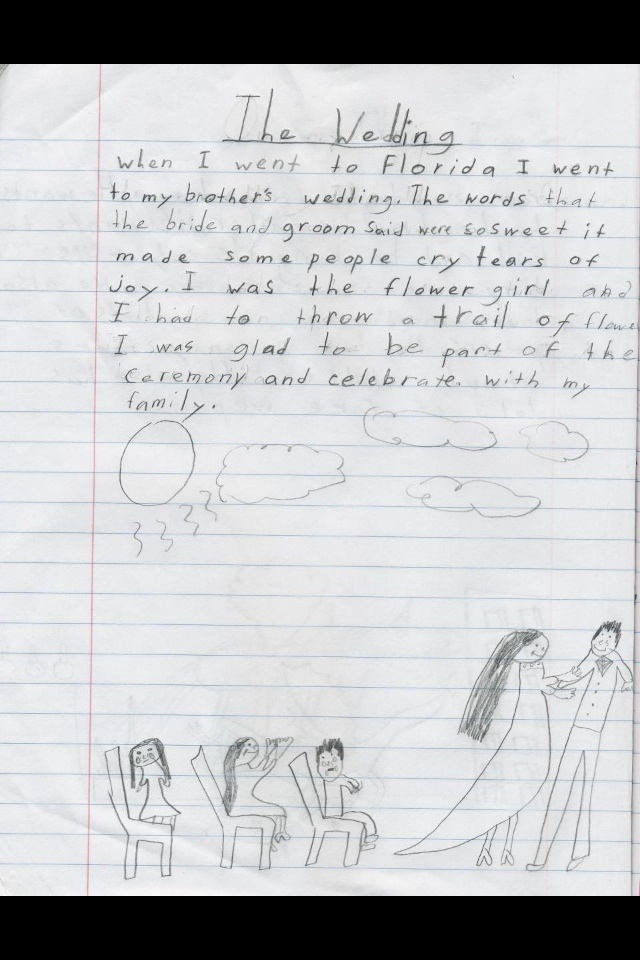 Damiano told HuffPost Weddings that Katerina keeps a journal and has given stacks of letters and drawings to Damiano and their two other siblings. According to their father, as soon as Katerina returned home from Damiano's wedding she immediately ran to her room and started writing.
"My guess is she wanted to capture the feelings while they were still fresh," Damiano said. "As you can see from the letter, Kata has one of the biggest hearts and some of the strongest family values I have ever come to know."
In January, another kid made us laugh when he wrote in a wedding guest book that he had never seen a man cry before.
Click through the slideshow below to see photos of cute kids at weddings.
PHOTO GALLERY
Cute Kids At Weddings
Keep in touch! Check out HuffPost Weddings on Facebook, Twitter and Pinterest.
BEFORE YOU GO