HuffPost Arts&Culture is celebrating Women's History Month with the help of our favorite artists -- female artists, of course. Every day of March we're rolling out a new key player in the art world with a playing card... Get it? Print them out for your own amazing (although probably a bit flimsy) card deck or use them to stay fresh on your favorite women in art.
THE TWO OF HEARTS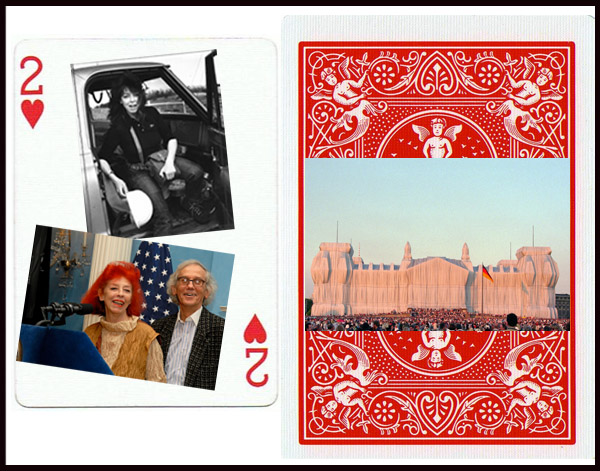 WHO: Jeanne-Claude Marie Denat
WHAT: Together with her lover and partner Christo Vladimirov Javacheff, Jeanne-Claude created ephemeral installations that melded urban planning, architecture, engineering, performance and sculpture. The husband-and-wife duo are known for their massive international projects, from wrapping a valley of the Rocky Mountains with 14,000 square meters of cloth to installing bubble-gum pink skirts around 11 islands in Miami's Biscayne Bay. In 2009, Jeanne-Claude passed away at the age of 74, leaving Christo to continue their mission on his own.
WHERE: "Christo and Jeanne-Claude: The Tom Golden Collection" will show until May 5 at the Price Tower Arts Center in Oklahoma.
WHY: Aside from their inspired artistic visions, Christo and Jeanne-Claude have one of the most entrancing love stories of our time. Jeanne-Claude, who studied philosophy in school, became an artist after falling in love with Christo. She constantly professed in interviews and lectures: "If he were a dentist, I would have become a dentist."

Images:
Front top: Courtesy Christo and photographer Wolfgang Volz
Front bottom: Getty Images
Back top: Alamy
Back bottom: Alamy