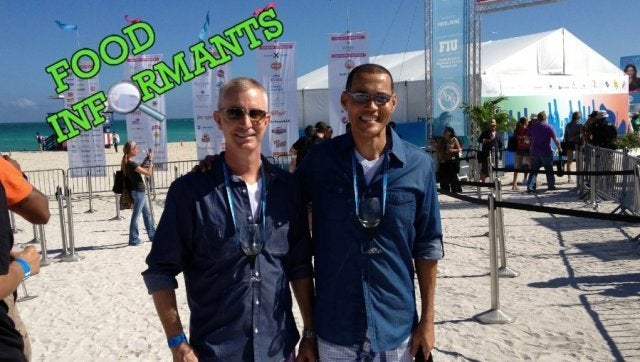 Food Informants is a week-in-the-life series profiling fascinating people in the food world. We hope it will give you a first-hand look at the many different corners of the food industry. Know someone who would make a great Food Informant? Tell us why.
David Harwell joined Loews Miami Beach Hotel four years ago starting out as a Front Desk Agent and then moving to Concierge. He currently belongs to the 100% Club, meaning he has been mentioned by the Corporate Mystery Shopper as someone who has provided outstanding service.
In 2012, David was nominated and awarded the most prestigious honor that could be bestowed to any Loews Team member, The Loews Legend Award. David is not only passionate for his job as a Concierge but he also loves living in Miami Beach where he gets the opportunity to walk his beloved and very spoiled Italian greyhound "Samsom." Living in the middle of South Beach, David often thinks about things that would create a more lasting good impression on visitors. He believes a more efficient transportation system would make it easier for them to have access to other popular South Florida destinations such as Fort Lauderdale, West Palm Beach and the Keys.
David was born and raised in a small town called Luka in Northeast Mississippi. He was raised by his parents and has a close relationship with his older brother and younger sister, and as David tells us, he is "crazy over his niece and nephew," whom he spoils at every chance he gets.
Read more about how David deals with the many inquiries he receives during the South Beach Food & Wine Festival.
6:00pm: I always think it is hysterical when people come to the desk asking me where the chefs will be eating –- and where can we see them. I have the best poker face. It is hard not to laugh at such a question and confidentiality is my number one priority when it comes to our VIPS.

11:00pm: Just getting out of work. Headed home for a nice cup of hot tea before calling it a day. Need to get some rest in before all the festivities start this week.
4:00pm: Back at Loews for my afternoon shift. Lobby has a lot of movement going on. Getting lots of emails and requests for private transportation form the airport. I can't believe that Aventura Limo is almost completely booked for tomorrow. Lots of VIP chefs arriving then.
10:00pm: Passing by Catch Miami to meet the manager and get a copy of the menu. Catch is new to South Beach but I've had several requests for reservations there. Can't wait to try it out for myself. Menu looks interesting.
Noon: I picked up lunch after my long workout and bike ride -– La Sandwicherie is located in a side street between Washington and Collins by 14th –- its is a small cafᅢᄅ and when I say small I mean tiny sliver of a restaurant. You can walk right up the window. If I was driving I could park and open my window to reach out for my food. My favorite there is the fresh flaky buttery croissants with a chicken salad. This is a great quick stop for food on the beach.
3:15pm: I just arrived at work. The resort is bustling and swarmed with chefs, their handlers, publicists and foodies everywhere. The festival brings a certain style of energy like no other. Partially frantic people trying to get to their next event and then calm before the storm-style where it's just about being on vacation.
4pm: I'm not going crazy here –- I have had at least 4 requests for Band-Aids and inquiries on where to get flip-flops all within a one-hour span. Here is a survival tip for the festival -– yes you are eating a lot but you are also walking a lot. Plan ahead! Band-Aids and comfortable shoes or flip-flops to make it through the sand are a MUST!

5pm: I received a shipment from Wine Away for my VIP guests. Wine Away is the best wine stain remover -- another MUST HAVE FOR THE FESTIVAL. They come in these small emergency kit bottles that I tell most people to keep in their back pocket. They are the size of a lipbalm and within seconds removes most food and wine stains. I'll be sending this up to a few of my VIP's and frequent guests. Lucky for me they sent a nice gift size enough to get anyone through a few days of SOBEWFF.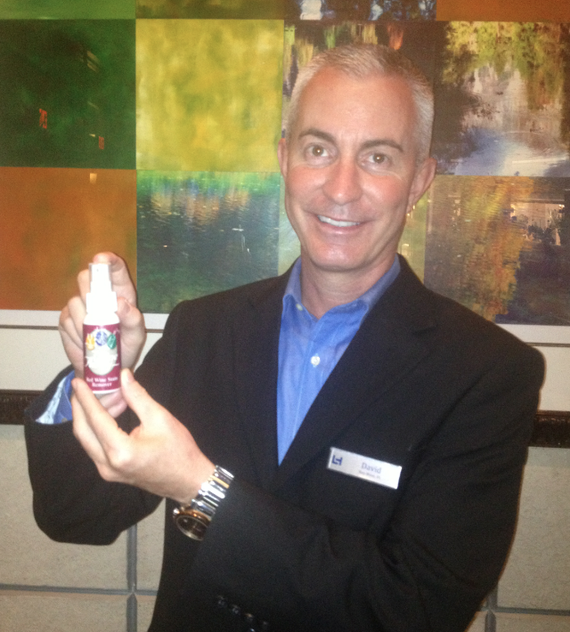 6pm: The Today Show is shooting live from here tomorrow –- we sent a letter to all the guests inviting them down and now everyone is calling wanted to know when Flo Rida is performing. The show mentioned Pitbull on the show but guests genuinely think that he is coming to perform. Lots of eager ladies calling for Mr. 305 –- can I meet him? Is he staying here? Can we come to the hotel if we are not guests here? The list goes on and on -– this will take up most of my night fielding requests for these performers.

Friday, February 22
800am: Watched the NBC Today Show live from the hotel and it looks great.
Noon: Ran into Chef Josh Capon with Lure Fishbar –- he is opening up the first outpost outside of NYC at our hotel in October of this year. He just finished a volleyball beach tournament and looked exhausted but excited after winning a trophy. He is participating in Burger Bash tonight. He is the three time champion in NYC. He even has the belt to prove it which he proudly wears...everywhere.
12:15pm: Shopping on Collins –- looking for Kenneth Cole sneakers to wear to the event. Unsure that navy blue is the best option for a sand wine event but I still love them.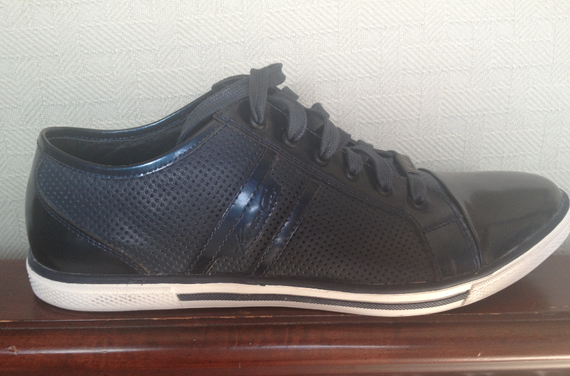 1:30pm: Wine Spectator Trade Day at the tent. Got the tickets Wine Spectator. They are very generous for all the help I did for them.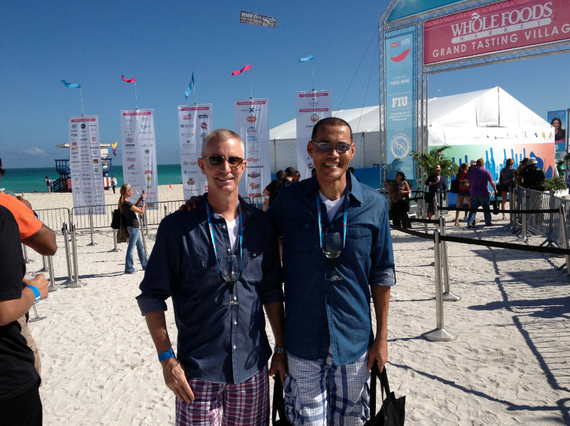 5pm: Biked my way down to Smith and Wolensky to have dinner –- it's my favorite. Entered into a 20 minute conversation with friends about why people should stay in resorts just after watching a Carnival Cruise pass by the port.
3pm: Guests that had been staying here for a while purchased two tickets from me for the Grand Tasting event. It is my favorite because I get to see so many industry friends since most are not working on Sunday and events wind down. They give so many giveaways on Sunday since no one wants to ship samples home (it's my little secret). These little tips are the best part of why people use a concierge –- the insiders guide is the easiest way to get the download without having to Google it…
7pm: Aww the South Beach Wine and Food Festival Tribute Dinner is like being one of the reporters on the Oscar red carpet -– fashion police is on patrol. Martha walks in with her entourage and every head turns. She looks stunning and glamorous. Hard to believe she is 71. She is wearing a head-turning gold sparkling top with powerhouse publicist Susan Magrino in hand. When they walk in you know it's only business -– everyone is trying to get their attention before the escalators. I escort them up to the Tribute dinner floor.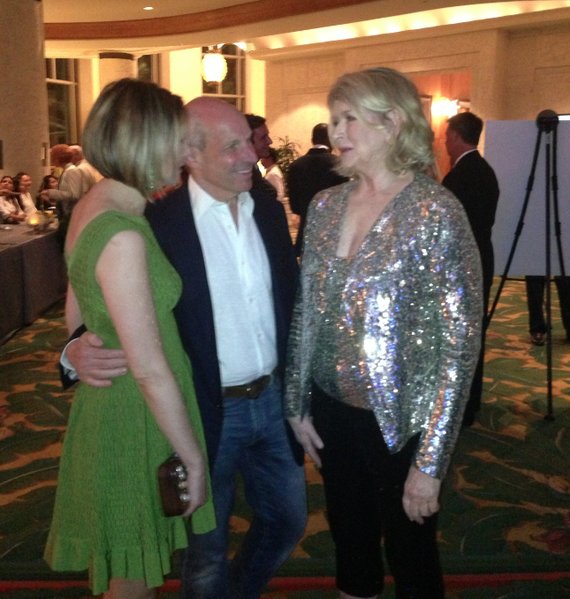 7:15pm: I headed to the back ballroom to watch in awe at the enormous production that goes into a 600-person, five-chef dinner honoring Chef Nobu.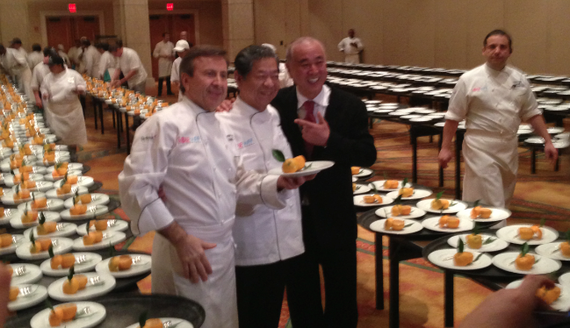 7:45pm: I head back downstairs to watch as the glamour arrives -– women and their very long dresses have this terrible fear of letting their dresses get caught in an escalator. Most of them have floor length gowns. I can hardly make it down to my station before another guest stops me to take their picture.
8pm: A guest I assisted earlier today stopped by and gave me two boxes of Lekempti Am Harrar coffee from Ethiopia. On the box it has BOX 2 of 4335. I am so thankful to receive this -– some of the perks in the job. It is great to help people out without expecting anything in return but when they surprise you with little things it makes it even sweeter. Lekempti is an exotic rare coffee and it is rated like wine –- a 91 this one has. I cannot wait to get home to grind and try it in my French press.
Sunday, February 24

8:30am: Woke up beautiful day -– made myself a delicious cup of French Press Coffee with the Lekempti coffee – and all I have to say is WOWOWOWOWOW spectacular.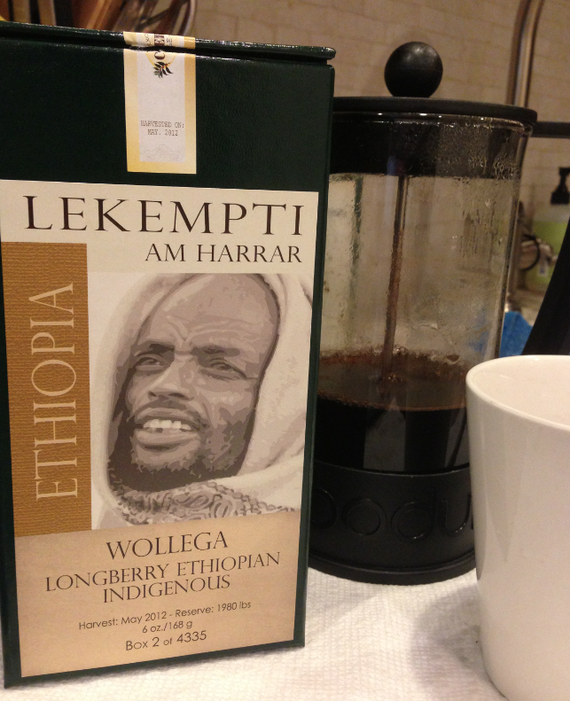 1pm: In the middle of lunch I got a call from the team. When I get those -- albeit rare -- it's usually not good. Remember the guests from yesterday that bought the tickets for the Grand Tasting tent? They called upset because their kids couldn't get in to the wine tasting tents with them and said I had promised their kids could get in for free (inside voice says: WHAT KIDS! And WHY WOULD YOU TAKE A KID TO A WINE AND SPIRITS EVENT!). I was so confused but okay -- unfortunately we never had a conversation about kids and I would never recommend that event out of all the wonderful family experiences that are offered.
3:20pm: The SOBE brunch ended around 1pm and everyone was headed to the tents. Lots of inquiries about the event at the Ritz Carlton.
11pm: Walked home tonight. Looked around in awe of how this city never stops and kissed my 12th South Beach Wine and Food Festival weekend goodbye. 'Til next year.
See more Food Informants below:
PHOTO GALLERY
Food Informants
Diary of a concierge to the [chef] stars.