Jennifer Lawrence is undoubtedly having a moment.
With shelves chock-full of awards, the 22-year-old actress has flocks of adoring fans and is even the object of Jack Nickolson's affection.
But is this mass adoration skewed? Does Jennifer Lawrence simply get away with the same things that make other celebrities sweat?
Let's test this theory:
The Offense: Smoking Weed
Lawrence was spotted smoking a suspicious-looking cigarette on her hotel balcony, mere days after winning an Oscar for Best Actress. Her photos went viral in no time and the support was quick to pour in, with reader comments ranging from "I think that's great!!!!!" to "As if I needed another reason to like her," "You deserve it Jen," "Good for her!" and "Good, now I like her even more!"
Even the media refrained from using obvious "Hunger Games" puns, as The Cut pointed out, and went for the dry and informative likes of "Smoking Hot! Jennifer Lawrence Spotted With Suspicious Looking Cigarette In Hawaii" and "Jennifer Lawrence Lets Loose in Hawaii." No shocking headlines, no judgment passed.
A week had gone by, and neither the actress nor her reps, have addressed the issue.
A month before Lawrence, snapshots of teen idol Justin Bieber smoking what appeared to be a blunt circulated the Web. It sparked such a controversy that the singer used his platform as "Saturday Night Live" host to apologize for the incident, saying (in character) that "he's really sorry" and "he'll never do it again."
Two years earlier, a video of Disney pop tart Miley Cyrus taking a bong hit churned so much backlash (even though it wasn't weed she was smoking, but salvia), the Disney star issued an apology in the pages of Marie Claire. "I'm disappointed in myself for disappointing my fans," Miley said, adding that role models cannot afford to make mistakes. Her father, Billy Ray, tweeted an apology as well.
The Offense: Dissing Meryl Streep
When she won a Golden Globe this year, Lawrence began her speech with "I beat Meryl!", a line from the movie "The First Wives Club." When critics, award show pundits and Lindsay Lohan didn't get the pun, hordes of commenters and fans swooped in to Lawrence's defense. Her classic '90s reference may have propelled her even higher in the realm of comedic marvel.
In a 2010 interview, Sharon Stone took a jab at the world's greatest living actress, saying Streep looks like "an unmade bed." Though later explained to have been taken out of context, an intended compliment rather than an insult meaning Streep is an "everywoman," fans worldwide took offense and called Stone "rude" and "jealous."
The Offense: Talking About Her Bowel Movements
In an interview with Entertainment Weekly, Lawrence discussed the family tradition her brothers passed on to her and which she passed on to her "Hunger Games" co-stars, Josh Hutcherson and Sam Claflin. "As soon as somebody farts around me, I think it's hilarious," she said. "This is something my brothers did that now the boys at work are obsessed with. You cup it, and then you throw it in someone's face and say, 'Take a bite out of that cheeseburger!'"
Her overly candid remark was perceived as "charming," genuine and amusing.
When Megan Fox discussed her bathroom antics in a 2007 interview with FHM, it was hardly a breath of fresh air. "I forget to flush the toilet. Friends will tell me, 'Megan, you totally pinched a loaf in my toilet and didn't flush,'" the actress said. Her comment was seen as gross and dumb, and she was labeled a pig.
The Offense: A (Sort Of) Wardrobe Malfunction
On her way to the stage to accept the SAG award, Lawrence's Dior Couture dressed "ripped" -- or rather, the sheer paneling beneath the layers showed for a brief moment. No one came after her personally for it (why would they?) and the incident was explained to everyone's satisfaction the next day.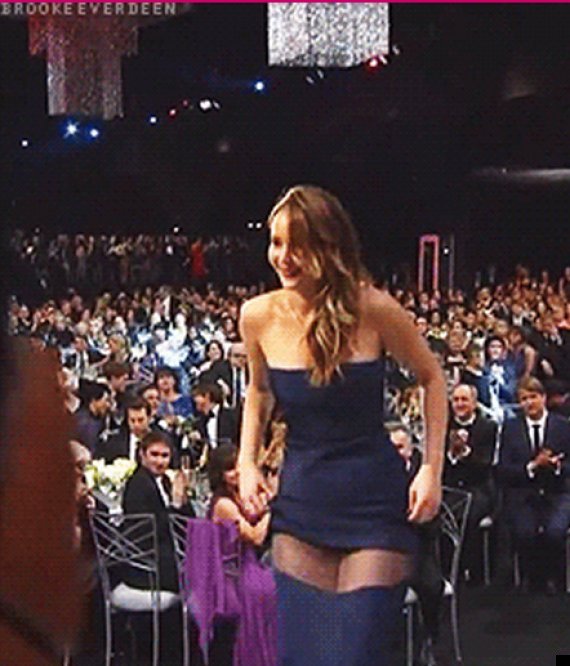 When Anne Hathaway opted for a last minute wardrobe change before the Oscars, her pink Prada dress quickly spawned a Twitter handle mocking her appearance: @HathawayNipple. Though clearly a faulty design in the bust area, Hathaway had to take the fall (and the ensuing backlash) for the "malfunction." The Offense: Messing With PETA
A year ago, Lawrence was quoted in Rolling Stone magazine as saying "I should say it wasn't real, for PETA -- but screw PETA" when referencing the squirrel she had to skin in "Winter's Bone." Her remark did get her in some hot water with the bellicose organization at the time, but it was not nearly as intense as some of PETA's other celebrity strifes.
"She's young and the plight of animals somehow hasn't yet touched her heart," PETA president Ingrid Newkirk said after the interview came out, but then added: "That was just a throw-away remark." This is a somewhat atypical statement from the aggressive group that frequently blasts celebrities with much more scathing assertions. Stars who weren't as lucky as Lawrence: Kim Kardashian, Kanye West, Sharon Stone, Lady Gaga, Reese Witherspoon, Beyonce, Elizabeth Hurley and Nicole Richie, to name a few.
BEFORE YOU GO
PHOTO GALLERY
Jennifer Lawrence