Since Ellen DeGeneres did such an awesome job naming Talia Castellano, a 13-year-old aspiring make-up artist who is battling cancer, an honorary CoverGirl this past September, it was a no-brainer to task her with finding the next lucky gal.
After launching a nation wide search and receiving nearly 20,000 applicants the Emmy Award-winning talk show host, who is also a CoverGirl herself, announced the winner during a live taping of her show on Thursday.
So without further ado, the new CoverGirl is...Alexis Harris!
PHOTO: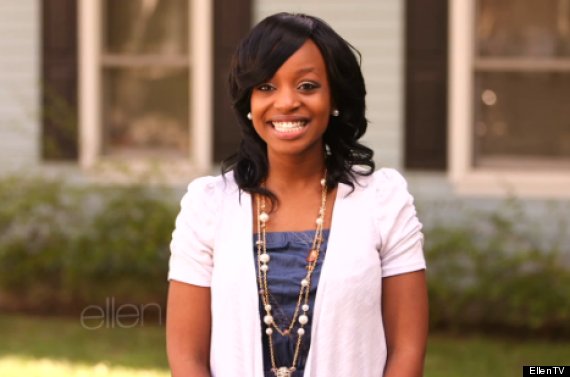 The 18-year-old University of Texas-San Antonio student was sitting in the studio audience unaware she had won until the moment Ellen brought out her family to help make the announcement.
One look at the gorgeous brown-haired and brown-eyed teen, and it's clear to see why she'd make a perfect CoverGirl. But lest you think Harris is all beauty and no brains, take note that she earned her Associates degree before graduating from high school and is the founder and CEO of the S.M.I.I.L.E (Students Making Impacts In Lives Everywhere) Movement.
Ellen played a video of Harris' heartfelt and inspiring submission to the contest, which we couldn't watch without tearing up. Harris talks about being raised with her three brothers by a single mother who served in the military and sadly not being able to remember the last time she spoke to her father. Nevertheless, she's been able to realize many of her dreams, and perhaps the biggest one yet now that she can officially call herself a CoverGirl and $20,000 richer (an awesome part of her winnings).
Harris' first assignment? Striking a pose with Ellen next month at a campaign shoot. The ads will then run in an upcoming issue of People magazine. Fabulous!
Congratulations, Alexis! We can't wait to see the campaign. Check out the video above to see her get the surprise of her life!
BEFORE YOU GO
PHOTO GALLERY
CoverGirls Past & Present