Now that spring's officially here, there's no excuse not to dial up the greens. This dish highlights asparagus, which is not only delicious but can also keep you stress-free (you can thank folic acid for that). Tonal and verdant, this pasta recipe is a refreshing changeup from the red-sauce spaghetti you've been subsisting on all winter. And the best part? You can make it in under 30 minutes.
Spring Greens Asparagus and Ricotta Pasta
From Foodiecrush
Serves 4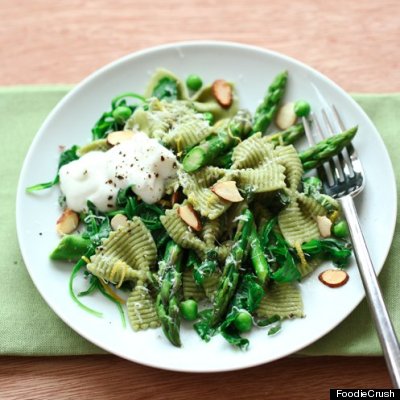 1 pound spinach farfalle or penne pasta
1/2 pound asparagus spears, blanched and cut into 1-inch pieces
1 cup peas, blanched or thawed
2 cups fresh spinach leaves, blanched and drained of all water
1 cup ricotta fresca
1/2 cup parmesan cheese, grated
4 tablespoons fruity olive oil
juice of one lemon
1 tablespoon lemon zest
1/2 cup mint leaves, shredded
1/2 cup sliced almonds, toasted
kosher salt and freshly cracked pepper
1. Bring a large saucepan of salted water to a boil and cook pasta to package directions until al dente. Drain and return to warm pan. Add asparagus, peas, spinach and mint.
2. In a small bowl mix olive oil, lemon juice and lemon zest until well blended. Add to pasta and vegetables and combine. Garnish with ricotta fresca, parmesan and almonds and top with kosher salt and cracked pepper.
This story appears in Issue 40 of our weekly iPad magazine, Huffington, in the iTunes App store, available Friday, March 15.