Azealia Banks has added the Stone Roses to her list of enemies, joining the ranks of Perez Hilton, Angel Haze, Jim Jones, and many others.
Banks played a show in Australia this week as a part of the Future Music Festival, a gig that rock band Stone Roses booked too. According to Banks' recent tweets, her set went less than smoothly because of the Stone Roses.
"Big apologies on behalf of the Stone Roses to my fans at the festival today," Banks wrote. "My ex-tour manager made a pact with the Stone Toses saying they'd sabotage my set because I fired him... They decided to check their equipment behind me during my set."
Banks recently fired her manager, after accusing him of stealing from her.
Never one to back down from a fight, Banks took it a step further, calling the members of Stone Roses "old saggy white n----s" and wishing death upon them. Banks has since deleted the tweets, but a screenshot of her original statements can be seen below.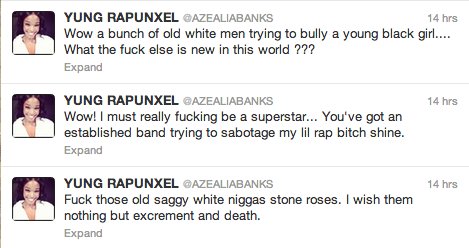 There has been no comment from the Stone Roses on Banks' words.
PHOTO GALLERY
Celebrity Feuds
BEFORE YOU GO