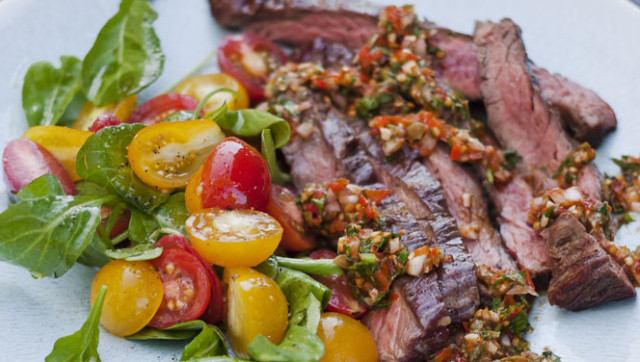 You won't be able to find an easier dinner recipe to make that tastes as good as churrasco. If you're not familiar with churrasco, it's just a thin cut of meat -- usually flank steak -- that's quickly grilled and almost always served with chimichurri. And if you've never had chimichurri your whole world is going to change the first time you try it -- which you should do tonight.
Chimichurri is a simple sauce sauce made with parsley, garlic, oil and vinegar but it tastes like magic. And it gives the steak a fresh flavor (and anything else you add chimichurri to, which will be everything once you taste this sauce).
Get the Churrasco Steak and Arugula with Candied Pepper Chimichurri recipe
Want to read more from HuffPost Taste? Follow us on Twitter, Facebook, Pinterest and Tumblr.
Get more steak recipes.
PHOTO GALLERY
A Festive Steak Dinner
BEFORE YOU GO