"Jeopardy!" and Taylor Swift are probably never, ever, ever getting back together.
The long-running game show featured Swift as an answer on the March 13 broadcast and made a joke out of her tendency to write breakup songs. The clue, which you can see here, read: "2009's best female country vocal went to her for 'White Horse,' where (SHOCKER!) she goes off on an ex-boyfriend."
Swift recently shot back at Amy Poehler and Tina Fey for making jokes about her and her dating life at the Golden Globe awards, telling Vanity Fair: "You know, Katie Couric is one of my favorite people because she said to me she had heard a quote that she loved ... that said, 'There's a special place in hell for women who don't help other women.'"
Both Fey and Poehler have both issued comments back about the situation. "Aw, I feel bad if she was upset. I am a feminist and she is a young and talented girl," Poehler told The Hollywood Reporter. "That being said, I do agree I am going to hell. But for other reasons. Mostly boring tax stuff."
Fey told Entertainment Tonight she wasn't expecting Swift to get mad at the Golden Globe joke. "If anyone was going to get mad at us, I thought it would be James Cameron," Fey said. "I did not see that one coming. It was a joke. It was a lighthearted joke."
The Swift jab is just the latest in a series of new pop culture references on "Jeopardy!" The show recently did an entire board of categories that mimicked "Call Me Maybe" lyrics and did a category mocking Mitt Romney's "binders full of women" comment.
Check out the "Jeopardy!" answer below, screenshot via Reddit: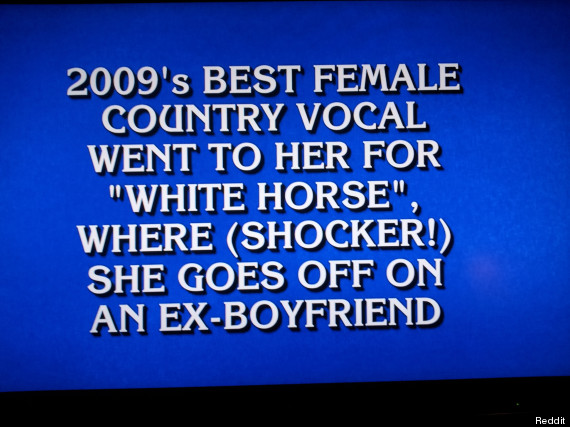 PHOTO GALLERY
2013 Renewal Index: Canceled, Renewed & On The Bubble Shows
BEFORE YOU GO