If you think your computer mouse needs a major upgrade, you might be in luck. Famed Russian designer Vadim Kibardin, 2012 winner of the DESIGN AND DESIGN International Award, has recently announced that he is developing a levitating computer mouse. And continuing the theme of naming our point-and-click devices after small mammals, it's appropriately called "The Bat."
The Bat looks like a magician's trick, but the technology behind it is simple: magnetic rings keep it afloat, and it hovers 10 millimeters beneath the weight of a user's hand, with a 40 millimeter maximum height when not in use.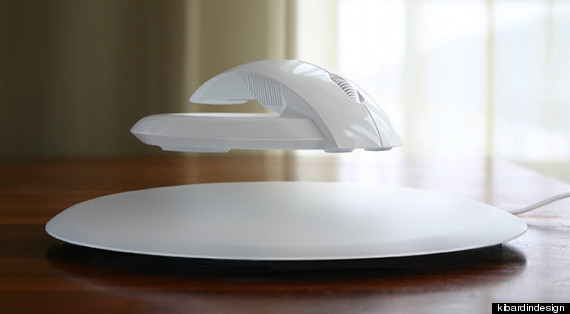 The mouse is meant to reduce pressure on the wrist and theoretically lead to a lower incidence of carpal tunnel syndrome. Ergonomics expert Dr. David Rempel told The New York Times in 2008 that "in the last few years, strong evidence has emerged that if you use a computer mouse for more than 20 hours a week, your risk of carpal tunnel syndrome is increased."
However, according to WebMD, a mouse use may not be a leading cause of carpal tunnel syndrome. It is "actually three times more common among assembly line workers than it is among data-entry personnel -- and frequent use of vibrating hand tools increases the risk," the site says. So perhaps Kibardin, for all his noble intentions, isn't actually fixing the real problem.
Some tech writers remain skeptical that the mouse -- which so far has been seen only in computer-generated mockups -- is even real. Hazel Chua of Technabob calls it "impractical" and "probably impossible," while David Ponce at OhGizmo! says he doubts such a niche product, even if made, would ever hit the market.
When asked for a release date by The Huffington Post, Julia Kibardina, the managing director of Kibardin's design studio, KIBARDINDESIGN, replied by email: "The BAT mouse project is in the first stage of pre-production. We're researching the market, customers' interest and improving the engineering part. We're also preparing a presentation for media. As soon as we are ready, we will give you all the information about this project."
PHOTO GALLERY
More Pictures Of The Bat
BEFORE YOU GO