Poison singer Bret Michaels shares a birthday with actress Eva Longoria, so he thought it fit to wish her a happy birthday -- we're just not quite sure he knows who she is.
On Friday, the rocker, who turned 50 years old today, tweeted, "Wishing a #HappyBirthday to @EvaLongoria. Hope your day rocks!" and posted a photo of himself next to someone he thought was Eva Longoria. The only problem was that he actually tweeted a photo of himself standing next to reality TV queen Kim Kardashian.
Michaels appeared to have realized his mistake as he deleted the tweet, but not before it was retweeted by another user: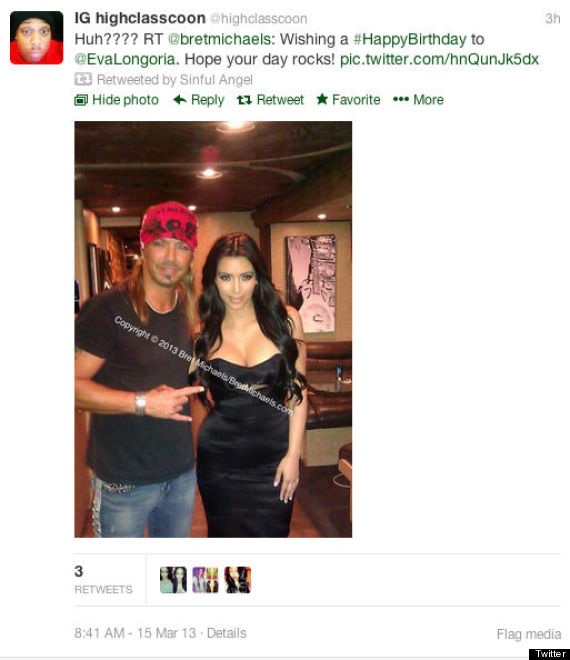 The photo of Michaels and Kardashian dates back to March 2011, when she climbed aboard his tour bus after the singer headlined a charity concert in Orlando.
Michaels revealed that the two had a ten minute conversation, telling Us Weekly:
"We talked about how she was doing. We talked a little bit about my health. Talked about the concert. It was very cool. She was very, very polite. I mean that. Very sexy, very cool, very together," he said, adding, "I admire her beauty. She's got one of the prettiest faces ever. Sometimes you see someone, and then you see them in person and it's not quite the same. She was very beautiful in person."
We guess that means Eva Longoria should take the mixup as a compliment.
BEFORE YOU GO
PHOTO GALLERY
Kim Kardashian Through The Years