Cable news didn't have a lot of time for Mitt Romney's big speech at the 2013 CPAC conference.
The speech on Friday was one of Romney's first major addresses since he lost the presidential election in November. As he started speaking, both CNN and MSNBC cut to the CPAC stage. After about ten minutes or so, both moved on, with MSNBC cutting to a commercial and CNN moving to a story about the military.
Fox News was even less kind to Romney. Even though the former governor gave his first post-presidential interview to the network's Chris Wallace, Fox News avoided the CPAC speech completely, focusing instead on a Michael Moore blog post, Benghazi and the Steubenville rape case. Anchor Megyn Kelly even spoke to radio host Lars Larson, who was being filmed from CPAC, and a blurred outline of Romney speaking could be seen in the distance of his shot.
PHOTO: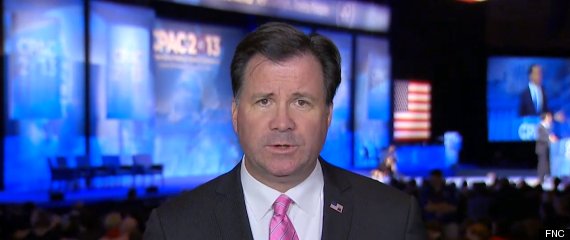 The speech did air in its entirety on C-SPAN.

BEFORE YOU GO
PHOTO GALLERY
CPAC 'All-Stars' Have A Way With Words