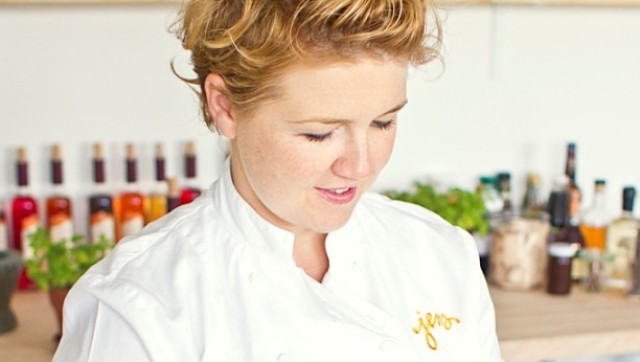 We've been thinking a lot lately about the chefs, musicians, comedians, actors and others whose careers frequently take them out on the road, into more airplanes, restaurants and hotel bars than they can count. When they finally settle back in at home, what do they want to cook for themselves? We asked, and they just started telling us! Find out their answers in our series, Homecoming Meals.
You might not recognize Jeni Britton Bauer's face immediately, but we're willing to bet you'll recognize her ice cream. Jeni's Splendid Ice Creams come in hand-labeled pints with insanely creative flavors that always leave us excited for the next round. Out of the team's home base in Jeni's beloved Columbus, Ohio, they create incredible ice creams with fantastic ingredients. As Jeni says, "Generic chemist-built ice cream bases and powdered astronaut-friendly gelato mixes? No, ma'am. We build every recipe from the ground up with luscious, Snowville milk and cream from cows that eat grass."
Jeni's warm smile, personality like a giant hug and delicious ice cream have made her a pretty popular lady of late. She's been on the road more than your average ice cream maker, even scooping at SXSW this year. What does a busy woman who makes perfect ice cream crave as her Homecoming Meal? Spoiler alert: it's not ice cream.
"What do I crave when I return home from being on the road? That's easy: veggies (and sleep). Usually when I'm on the road I'm indulging so when I return home I want restorative, bright flavors.
When it's summer, I crave my gazpacho. I make it with lots of fresh-plucked blue-red tomatoes, cukes, onions, garlic, and bell peppers, sherry vinegar, lots of olive oil, and my secret ingredients: ground raw almonds and piment d'Espelette. I love how tomatoes and peppers come alive with the olive oil and almonds -- the umami factor.
When it's winter, as it is now, I crave my version of ratatouille. I make it with similar ingredients I use to make my gazpacho -- and unlike traditional ratatouille, I make mine without eggplant (because... God... EGGPLANT, eew). It has the same restorative effect, but it's warmer and perfect for winter. I use butter with the olive oil because that's what we do in Ohio, and to bring out the umami in the winter tomatoes. Instead of cukes, as in the gazpacho, I use zukes and yellow squash. For my version, I like to chop up the first few ingredients and then very thinly slice the others. There's a great textural thing that happens when your teeth hit the thinly sliced, minimally cooked zukes and squash.
I'll serve with polenta, barley risotto or a hunk of bread on Saturday and then fold the leftovers into an omelet on Sunday.
Tip: Be sure to use plenty of salt. You really can't hold back here or it will taste like nothing at all. I use about two teaspoons in the pot but it all depends on how big your veggies are."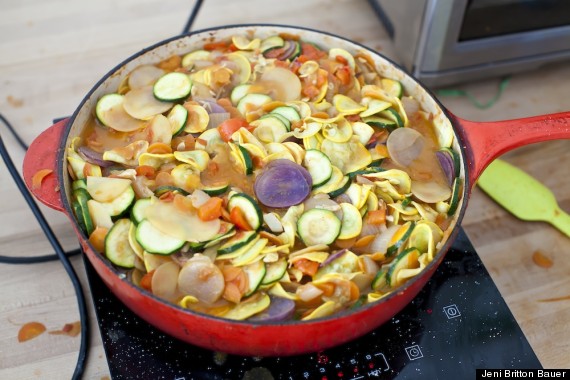 Ratatouille (non-traditional)
Ingredients:
3 Tablespoons Butter
3 Tablespoons olive oil
8 tomatoes chopped with seeds and liquid
2 red bell pepper chopped
10 cloves garlic smashed and ripped
1 very large onion chopped
2 TBS piment d'Espelette (or to taste)
Very thinly sliced:
5 carrots
1.5 lbs fingerling (or other small) potatoes
4 zukes
4 yellow squash
1.5-2 teaspoons of salt (or to taste)
Directions:
In 6-qt saute pan, saute the first four ingredients with olive oil and butter and about 1 tsp of salt until very soft. About 20 minutes. Add piment d'Espelette.
Add carrots and potatoes. Stir and cover. Let simmer away until soft, stirring occasionally. About 20 minutes. If the mixture becomes too dry, add 1/2 - 3/4 cup of water (this will depend on your vegetables).
Add zukes and yellow squash and cook until warmed through. I like them to remain colorful and barely cooked.
Add salt to taste.
Want to read more from HuffPost Taste? Follow us on Twitter, Facebook, Pinterest and Tumblr.
BEFORE YOU GO
PHOTO GALLERY
The Best Ice Cream Flavors