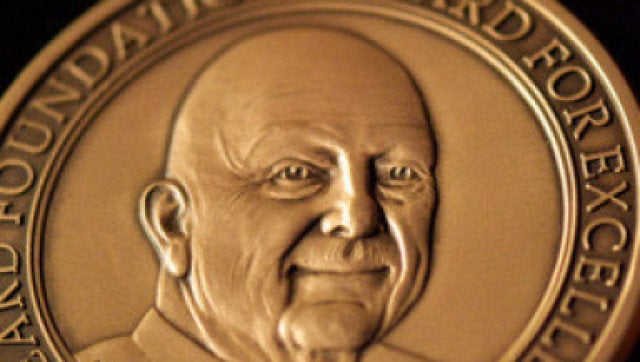 The James Beard Foundation has announced the 2013 finalists for its annual awards. The finalists are determined by an independent volunteer panel (restaurant critics, food editors, past winners, etc.) of more than 600 judges from across the country, based on the previous list of semifinalists.
The restaurant and chef winners will be announced on May 6 at New York's Lincoln Center. The journalism and media award winners will be announced on May 3.
Here's a look at the finalists. Congratulations to all!
FOOD COVERAGE IN GENERAL INTEREST PUBLICATION
Los Angeles Magazine, Lesley Bargar Suter
Men's Health, Adina Steiman
Real Simple, Lygeia Grace
Washingtonian, Tood Kliman
PERSONAL ESSAY
Fuchsia Dunlop, Lucky Peach, "London Town"
Hua Hsu, Lucky Peach, "Wokking the Suburbs"
Joy Manning, Table Matters, "The Swedish Chef"
HUMOR
Lisa Hanawalt, Lucky Peach, "The Secret Lives of Chefs"
Alice Laussade, Dallas Observer, "The Cheap Bastard's Ultimate Guide to Eating like a Total Cheap Bastard in Dallas"
Michael Procopio, Food for the Thoughtless, "Ky Jelly is My New Jam"
COOKING/RECIPES/INSTRUCTION
M. Goulding, M. Kadey, P. Kita, Men's Health, "The Butcher is Back!," "The Six-Pack Foods of Summer," "Southern Food Rises Again"
J. Kenji Lᅢᄈpez-Alt, Serious Eats, "The Food Lab"
Every Day With Rachael Ray Staff, "Pick your Perfect Thanksgiving"
PROFILE
Brandon Chuang, Feast, "An Evolution of ideas"
Alex Halberstadt, New York Times Magazine, "Cooking isn't Creative and it isn't Easy"
Brett Martin, GQ, "Danny and the Electric Kung Pao Pastrami Test"
FOOD AND CULTURE
Oliver Bullough, Roads & Kingdoms, "Adjika: Sauce of Glory, Pride of Abkhazia"
Ryan D'Agostino & Esquire Staff, "The Esquire Community Cookbook"
Ann Taylor Pittman, Cooking Light, "Mississippi Chinese Lady Goes Home to Korea"
POLITICS/POLICY/ENVIRONMENT
Barry Estabrook, OnEarth, "Out to Lunch"
Tracie McMillan, The American Prospect, "As Common As Dirt"
Ben Paynter, Bloomberg Businessweek, "The Carp Must Die"
HEALTH & WELLBEING
Rachael Moeller Gorman, EatingWell, Solving the Sugar Puzzle"
Aliza Green, Washington Post, "The Gloves Can Come off, as Far as i'm Concerned"
Lou Schuler, Men's Health, "Did Cavemen Have Abs?"
FOOD COLUMNS
Celia Barbour, PhilipsTown.info, Mouths to Feed: "Into the Woods," "Of Cabbages and Queens," "The Dirt on Christmas"
Adam Sachs, Bon Appᅢᄅtit, The Obsessivore: "i'm big on Japan," "Everyone's a Critic," "The Tradition Starts Here"
Jane and Michael Stern, Saveur, Routes: "Surf and Turf," "Hog Heaven," "Fair and Square"
Lettie Teague, Wall Street Journal, on Wine: "A Pinot a Day: Is a Little Wine Really Good for You?," "Think While you Drink: In Defense of Wine Snobs," "Men Are From Cab, Women Are From Moscato?
WINE, SPIRITS, & BEVERAGE
Betsy Andrews, Saveur, "Northern Renaissance"
Marisa Huff, La Cucina Italiana, "The New Birra Italiana"
Michael Steinberger, Vanity Fair, "A Vintage Crime"
INDIVIDUAL FOOD BLOG
Cannelle et Vanille
Hunter Angler Gardener Cook
Vinography
GROUP FOOD BLOG
Dark Rye
Eater National
Grub Street NY
FOOD AND TRAVEL
Matt Goulding, Roads & Kingdoms
Peter Jon Lindberg, Travel + Leisure
Adam Sachs, Travel + Leisure
CRAIG CLAIBORNE DISTINGUISHED RESTAURANT REVIEW AWARD
Alison Cook, Houston Chronicle, "Justin Yu and Oxheart Look Forward, Not Back," "Torchy's Tacos' Magic Gets Lost in Translation," "Why Underbelly is Essential to Houston"
Patric Kuh, Los Angeles Magazine, "Whole Foods," "Shore Thing," "Power Station"
Tejal Rao, Village Voice, "Bangkok Pop, No Fetishes," "The Sweet Taste of Success," "Enter the Comfort Zone at 606 R&D"
M.F.K. FISHER DISTINGUISHED WRITING AWARD
Dara Moskowitz Grumdahl, Mpls.St.Paul Magazine, "The Cheese Artist"
Richard Parks, Lucky Peach, "Khmerican Food"
Mike Sula, Chicago Reader, "Chicken of the Trees"
RADIO SHOW/AUDIO WEBCAST
Fear of Frying, WBEZ
NewsWorks, WHYY FM
The Salt, NPR
VIDEO WEBCAST FIXED LOCATION/INSTRUCTIONAL
Chicago Restaurant Pastry Competition, jmpurepastry.com
How to Cocktail, youtube.com/liquor
The Seasonal Cooks, bonappetit.com
VIDEO WEBCAST ON LOCATION
The Curious Adventures of Kirk Lombard, darkrye.com
food. curated., foodcurated.com
The Perennial Plate, theperennialplate.com
TV PROGRAM STUDIO/FIXED LOCATION
CBS Sunday Morning: "Eat, Drink, and Be Merry"
Martha Stewart's Cooking School
Sara's Weeknight Meals
TV PROGRAM ON LOCATION
Bizarre Foods America, Travel Channel
MeatEater, Sportsman Channel
The Mind of a Chef, PBS
TELEVISION SEGMENT
CNN InFocus, CNN
Friday Arts, Art of Food, WHYY TV
The Hungry Hound, ABC 7 Chicago
SPECIAL/DOCUMENTARY
America Revealed: Food Machine, PBS
Food Forward Urban Agriculture Across America, PBS
The Restaurateur, PBS
OUTSTANDING FOOD PERSONALITY/HOST
Gerry Garvin, Cooking Channel
Sara Moulton, PBS
Andrew Zimmern, Travel Channel
AMERICAN COOKING
Fire in My Belly, Kevin Gillespie and David Joachim
Mastering the Art of Southern Cooking, Nathalie Dupree and Cynthia Graubart
Southern Comfort, Allison Vines-Rushing and Slade Rushing
BEVERAGE
How to Love Wine, Eric Asimov
Inventing Wine, Paul Lukacs
Wine Grapes, Julia Harding, Jancis Robinson, and Josᅢᄅ Vouillamoz
GENERAL COOKING
Canal House Cooks Every Day, Melissa Hamilton and Christopher Hirsheimer
Modernist Cuisine at Home, Nathan Myhrvold and Maxime bilet
What Katie Ate, Katie Quinn Davies
INTERNATIONAL
Burma, Naomi Duguid
Gran Cocina Latina, Maricel E. Presilla
Jerusalem, Yotam Ottolenghi & Sami Tamimi
REFERENCE & SCHOLARSHIP
101 Classic Cookbooks, Marvin J. Taylor and Clark Wolf
The Art of Fermentation, Sandor Ellix Katz
The Cookbook Library, Anne Willan with Mark Cherniavsky and Kyri Claflin
BAKING & DESSERT
Bouchon Baking, Thomas Keller and Sebastien Rouxel
The Dahlia Bakery Cookbook, Tom Douglas and Shelley Lance
Flour Water Salt Yeast, Ken Forkish
PROFESSIONAL POINT OF VIEW
Come In, We're Closed, Christine Carroll and Jody Eddy
Fundamental Techniques of Classic Italian Cuisine, The International Culinary Center, Cesare Casella, and Stephanie Lyness
Toquᅢᄅ!, Normand Laprise
FOCUS ON HEALTH
Cooking Light: The New Way to Cook Light, Scott Mowbray and Ann Taylor Pittman
The Sprouted Kitchen, Sara Forte
True Food, Sam Fox and Andrew Weil with Michael Stebner
SINGLE SUBJECT
Afield, Jesse Griffiths
Modern Sauces, Martha Holmberg
Ripe, Nigel Slater
VEGETABLE FOCUSED AND VEGETARIAN
Foraged Flavor, Tama Matsuoka Wong with Eddy Leroux
Herbivoracious, Michael Natkin
Roots, Diane Morgan
WRITING & LITERATURE
The American Way of Eating, Tracie McMillan
The Man Who Changed the Way We Eat, Thomas McNamee
Yes, Chef, Marcus Samuelsson
PHOTOGRAPHY
Bouchon Bakery, Deborah Jones
Toquᅢᄅ!, Dominique Malaterre
What Katie Ate, Katie Quinn Davies
RESTAURANT DESIGN & GRAPHICS
75 Seats and Under:
Farmshop, Santa Monica
Isa, Brooklyn
minibar, Washington, D.C.
76 Seats and Over:
Jaleo at the Cosmopolitan Las Vegas
Juvia, Miami Beach
Triniti, Houston
OUTSTANDING WINE, SPIRITS OR BEER PROFESSIONAL
Sam Calagione, Dogfish Head Craft Brewery
Merry Edwards, Merry Edwards Winery
Garrett Oliver, Brooklyn Brewery
Neal Rosenthal, Rosenthal Wine Merchant
David Wondrich, Spirits Educator
OUTSTANDING WINE PROGRAM
A16, San Francisco
The Barn at Blackberry Farm, Walland, TN
CityZen at Mandarin Oriental, Washington, DC
Frasca Food and Wine, Denver, CO
Picasso, Las Vegas, NV
OUTSTANDING BAR PROGRAM
The Aviary, Chicago
Bar Agricole, San Francisco
The NoMad, New York City
Holeman Finch & Public House, Atlanta
Pegu Club, New York City
The Violet Hour, Chicago
BEST CHEF: WEST
Chris Cosentino, Incanto, San Francisco
Christopher Kostow, The Restaurant At The Meadowood, St. Helena, CA
Corey Lee, Benu, San Francisco
Daniel Patterson, Coi, San Francisco
Jon Shook and Vinny Dotolo, Animal, Los Angeles
BEST CHEF: SOUTHWEST
Kevin Binkley, Binkley's Restaurant ,Cave Creek, AZ
Bryce Gilmore, BarleySwine, Austin, TX
Jennifer Jasinski, Rioja, Denver
Hugo Ortega, Hugo's, Houston
Chris Shepherd, Underbelly, Houston
BEST CHEF: NORTHWEST
Jason Franey, Canlis, Seattle
Naomi Pomeroy, Beast, Portland
Gabriel Rucker, Le Pigeon, Portland
Ethan Stowell, Staple & Fancy Mercantile, Seattle
Cathy Whims, Nostrana, Portland
BEST CHEF: GREAT LAKES
Dave Beran, Next, Chicago
Stephanie Izard, Girl & The Goat, Chicago
Jonathon Sawyer, Greenhouse Tavern, Cleveland
Paul Virant, Vie, Western Springs, IL
Andrew Zimmerman, Sepia, Chicago
BEST CHEF: MIDWEST
Justin Aprahamian, Sanford, Milwaukee
Gerard Craft, Niche, St. Louis
Colby Garrelts, Bluestem, Kansas City, MO
Michelle Gayer, Salty Tart, Minneapolis
Jack Riebel, Butcher & the Boar, Minneapolis
BEST CHEF: SOUTH
Justin Devillier, La Petite Grocery, New Orleans
Jeff McInnis, Yardbird, Miami
Tory McPhail, Commander's Palace, New Orleans
Alon Shaya, Domenica, New Orleans
Sue Zemanick, Gautreau's, New Orleans
BEST CHEF: SOUTHEAST
Ashley Christensen, Poole's Downtown Diner, Raleigh
Edward Lee, 610 Magnolia, Louisville
Joseph Lenn, The Barn at Blackberry Farm, Walland, TN
Steven Satterfield, Miller Union, Atlanta
Tandy Wilson, City House, Nashville
BEST CHEF: MID-ATLANTIC
Cathal Armstrong, Restaurant Eve, Alexandria, VA
Spike Gjerde, Woodberry Kitchen, Baltimore
Johnny Monis, Komi, Washington, DC
Brad Spence, Amis, Philadelphia
Vikram Sunderam, Rasika, Washington DC
BEST CHEF: NORTHEAST
Jamie Bissonnette, Coppa, Boston
Joanne Chang, Flour Bakery + Cafᅢᄅ, Boston
Gerry Hayden, The North Fork Table & Inn, Southhold, NY
Melissa Kelly, Primo, Rockland, ME
Barry Maiden, Hungry Mother, Cambridge, MA
BEST CHEF: NYC
April Bloomfield, The Spotted Pig
Wylie Dufresne, wd-50
Mark Ladner, Del Posto
Jonathan Waxman, Barbuto
Michael White, Marea
BEST NEW RESTAURANT
Empellᅢᄈn Cocina, NYC
Grace, Chicago
The Ordinary, Charleston
Rich Table, San Francisco
State Bird Provisions, San Francisco
RISING STAR CHEF OF THE YEAR
Jimmy Bannos, Jr., Purple Pig, Chicago
Danny Bowien, Mission Chinese, San Francisco/NYC
Thomas McNaughton, Flour + Water, San Francisco
David Posey, Blackbird, Chicago
Blaine Wetzel, The Willows Inn, Lummi island, WA
OUTSTANDING CHEF
Sean Brock, McCrady's, Charleston
David Chang, Momofuku Noodle Bar, NYC
Gary Danko, Restaurant Gary Danko, San Francisco
Suzanne Goin, Lucques, West Hollywood, CA
Paul Kahan, Blackbird, Chicago
Nancy Silverton, Pizzeria Mozza, Los Angeles
OUTSTANDING RESTAURANT
August, New Orleans
Blue Hill, NYC
Highlands Bar and Grill, Birmingham
The Slanted Door, San Francisco
Spiaggia, Chicago
OUTSTANDING RESTAURATEUR
Maguy Le Coze, Le Bernardin, NYC
Donnie Madia, One Off Hospitality Group, Chicago
Piero Selvaggio, Valentino Restaurant Group, Los Angeles
Carolyn Styne, Lucques, West Hollywood
Phil Suarez, Suarez Restaurant Group, NYC
OUTSTANDING SERVICE
Del Posto, NYC
Quince, San Francisco
The Restaurant at Meadowood, St. Helena, CA
Topolobampo, Chicago
Vetri, Philadelphia
OUTSTANDING PASTRY CHEF
Dominique Ansel, Dominique Ansel Bakery, NYC
Melissa Chou, Aziza, San Francisco
Ken Forkish, Ken's Artisan Bakery, Portland
Hedy Goldsmith, Michael's Genuine Food & Drink, Miami
Brooks Headley, Del Posto, NYC
BEFORE YOU GO
PHOTO GALLERY
James Beard Awards 2012