We're always surprised how hard we laugh when we catch a re-run of "Golden Girls." The four ladies, Blanche, Dorothy, Rose and (our favorite) Sophia, are always so much edgier and sharp-tongued than we remember. But they, of course, had a very sweet side, and we can't hear the theme song, "Thank You For Being A Friend," without getting a little happier.
Mike over at Semi Sweet, an incredible cookie-decorating blog, appears to agree with us. For his one-year blog anniversary, he fashioned these incredible Golden Girls Cookies as a thank you to all of his readers for a sweet year. Mike based these cookies on original caricature illustrations of the girls by artist Glen Hanson. The likeness on each of these is uncanny and totally delightful. We'll take these over a thank-you card any day.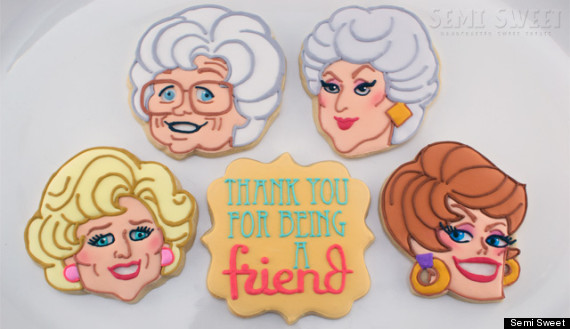 For now, Mike is decorating all of his incredible cookies for fun in his spare time. We promise to let you know if he ever agrees to start selling them to other people. You can check out the rest of his amazing work on Semi Sweet.
Go ahead, listen to the theme song, look at the cookies again, get instantly happy. We swear it works.
BEFORE YOU GO
PHOTO GALLERY
Cookie Recipes