A photographer in Washington D.C. captured a poignant moment between two runners at a recent marathon.
Simon Rakoff was waiting to photograph his wife's winning moment at the Rock 'n' Roll USA Marathon when he witnessed a man helping a fellow runner who was about to collapse across the finish line.
Story continues after photo.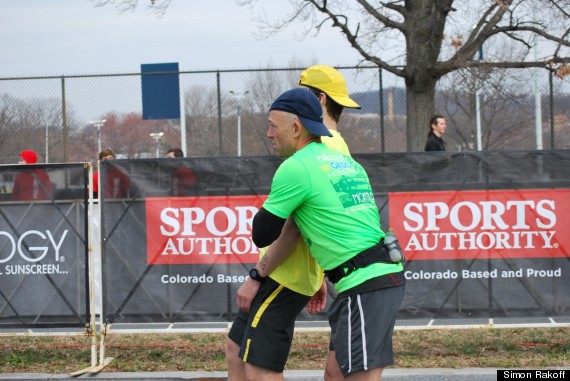 Runner's World posted the photograph on their site yesterday, and it has already received more than 5,600 likes and hundreds of comments commending the "Man in Green." The newswire then followed up with a story from the runners themselves.
Ryan Gregg, a 32-year-old father from Michigan (pictured in yellow), was within 200 meters of the finish line when he began to show signs of losing consciousness. Michael Stefanon of Virginia (in green) was feeling the strain as well when he saw Gregg struggling from a distance.
"The closer I got to him, the worse his condition appeared," Stefanon, 44, told Runner's World. "He began to flail backwards. That's when I knew he needed my help."
"The last few things I remember were stumbling side to side ... and someone grabbing me from behind and stopping me from falling flat on my back," Gregg explained. "They told me something about how I was going to finish and kept pushing me forward."
Stefanon stabilized Gregg and told him, "We are going to do this together." With the help of two race staffers, both the runners covered the remaining 15 yards to the finish line.
Gregg quickly received his finisher's medal and some much-needed medical attention, while Stefanon walked away feeling blessed.
Rakoff, who took the photograph, told The Huffington Post that for him, the image capture more than just a single moment. "The important point of the story is that we dont have to do much. It doesnt take much to help someone else. But that help means a lot, and the ability to lend a hand in a split second is a gift for everyone involved," he said.
BEFORE YOU GO
PHOTO GALLERY
Perfectly Timed Photos