As the national debate on gun control continues to heat up, some artists have responded with support for tougher laws on firearms.
One group of artists-cum-activists recently spoke out against the Second Amendment with posters in support of gun control. But a new photoblog named Thumbs & Ammo takes a more lighthearted approach to the issue by editing famous movie stills so our favorite superheroes, gangsters and cowboys give a hearty thumbs-ups instead of wielding guns.
"Real tough guys don't need guns, they just need a positive, can-do attitude," according to the blog's tagline.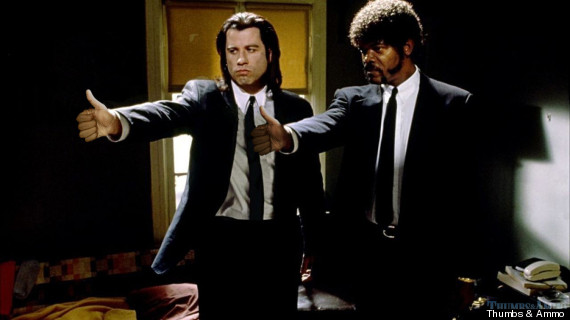 Good news for fans with Photoshop: Thumbs & Ammo is crowdsourced, so you can submit your own gunless heroes to thumbsandammo@gmail.com.
Scroll through the slideshow to see how the Terminator, Batman, and Tony Montana play it cool sans weapons. Let us know what you think of these revamped action stars in the comments.
(h/t: PetaPixel)
BEFORE YOU GO
PHOTO GALLERY
Thumbs & Ammo