Every artist faces different challenges to reach the top. For Bruno Mars that obstacle was… his Hispanic last name.
In an interview with GQ magazine, Mars, whose real name is Peter Hernández, confessed the beginning of his career, after moving to Los Angeles at 17, was a big culture shock. People from the music industry tried to pigeonhole him as another Latino artist, and even convince him to sing in Spanish.
"[Their response would be:] Your last name's Hernandez, maybe you should do the Latin music, this Spanish music... Enrique [Iglesias] is so hot right now," said the singer and songwriter to the magazine.
Ultimately, he ended up using his childhood nickname Bruno, and changing his last name to Mars, in an effort to "avoid being stereotyped," GQ magazine writes.
The son of a Puerto Rican Jewish percussionist and a Philippine dancer, the artist was born and raised in Hawaii. At age four he would become part of his father's variety show by impersonating Elvis Presley. The legendary star was an especially important figure in the Hernández home, since his dad once owned an Elvis-memorabilia store in Honolulu.
"I don't remember much," he said to GQ. "I probably couldn't even speak that much. But I was fucking great at it."
As for the star, when asked where he pictures himself retiring after all his success and multiple tours, his Hawaiian and Puerto Rican heritage seem to call him back to his roots.
"On a beach," he said, "drinking out of a coconut, watching some kids running around in the sand, looking at the ocean... And then planning a reunion tour, overweight."
Take a look at GQ's full interview with Bruno mars here.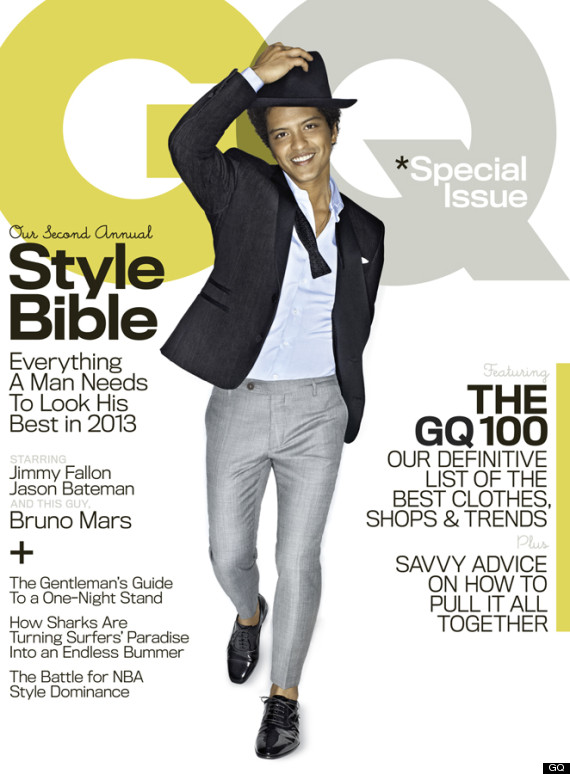 BEFORE YOU GO
PHOTO GALLERY
Hispanic Celebrities' Real Names