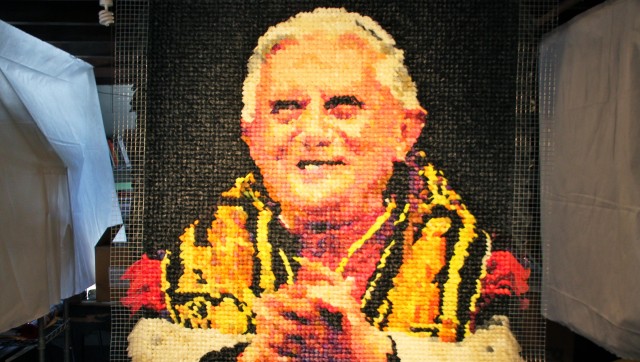 When Niki Johnson, an artist in Milwaukee, heard former Pope Benedict XVI say in 2009 that using condoms could increase the AIDS epidemic in Africa, her creative juices started flowing.
"I just thought, whoa," Johnson told The Huffington Post in an interview. "'I need to do something.'"
The 25-year-old responded with "Eggs Benedict" -- a portrait of the Roman Catholic leader created with 17,000 colored, non-lubricated condoms.
Through this, she hopes to take aim at the church's stance on using condoms, but also promote sexual diversity and a more open discussion about sexual health.
The entire project took 270 hours spread over three years to complete, Johnson estimated -- 135 hours individually opening the condoms, laying them out and planning, and 135 hours threading them through wire mesh. She finished in late 2012. The portrait will be on display beginning on April 19 at Portrait Society Gallery in Milwaukee. It will also be included in a larger exhibit, featuring more of Johnson's work, at that gallery from June 7 to July 28.
(Story Continues Below)
PHOTO GALLERY
Pope Condom Portrait
The Vatican never retracted the former pope's 2009 statement, but in 2010, in an interview for the German book, Light of the World: The Pope, the Church and the Signs of the Times, Benedict said that while condoms are not a moral solution to stopping AIDS, in some cases using them could represent a first step in assuming moral responsibility "in the intention of reducing the risk of infection."
Church doctrine still forbids artificial birth control, but Benedict's 2010 statement was significant because it addressed a taboo topic.
Johnson's more than aware of the varying opinions surrounding the church's position.
Backlash from "Eggs Benedict," started when Shorewood Patch reported on the project on Tuesday.
"I find people's anger toward it very interesting," she told HuffPost. "Someone said that if I'd made a portrait of Muhammad, I'd have been stoned or something. I just thought, but the great thing about this country is that we have a freedom of expression and we can stand up for what we believe in."
Of course, the piece is meant to be controversial, she added, but it's more than that.
"I see it as an inclusive piece," she said. "Yes, it says something about the church's position on sexuality, but it also embraces diversity with humor and irony."
Johnson chose to use condoms to promote discussing sexuality in general. When you view the portrait from the front, she said, you can't even tell they're condoms. But from the back, you can.
"Condoms aren't things that people typically break out in their houses or discuss openly with their children," she said. "I think the portrait demystifies the condom and makes it about something other than just sex."
Johnson said her choice to use several colored condoms, sometimes layering them to make new hues, also promotes diversity in sexuality -- the portrait is quite literally "very rainbow."
Johnson said she hopes people take away the beauty of the portrait, while also being inspired to start making a change.
"The church and other world leaders should do a lot more," she said in regards to HIV and AIDS prevention. "People need to start thinking about embracing sex health."
H/T Shorewood Patch
BEFORE YOU GO
PHOTO GALLERY
Sacred Sightings?