HuffPost Arts&Culture is celebrating Women's History Month with the help of our favorite artists -- female artists, of course. Every day of March we're rolling out a new key player in the art world with a playing card... Get it? Print them out for your own amazing (although probably a bit flimsy) card deck or use them to stay fresh on your favorite women in art.
SEVEN OF SPADES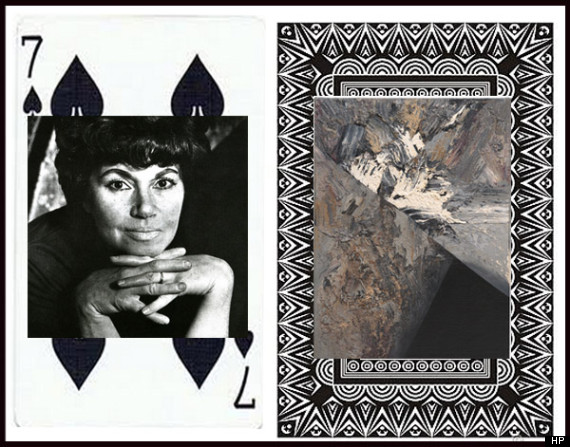 WHO: Jay DeFeo
WHAT: The Bay Area Beat generation artist is most well-known for "The Rose," an epic multimedia painting that took eight years to create and weighs a whopping 2,300 pounds. DeFeo was evicted from her apartment when she was working on the piece, and according to the New York Times, "the only way to move it was to cut out part of the building's front wall and extract the painting with a forklift." (Way to go out with a bang!)
WHERE: DeFeo is having a posthumous wave of recognition; her retrospective is currently showing at The Whitney Museum of American Art in New York.
WHY: Just take a look at this gargantuan painting and you'll immediately realize there is nothing else like it.
See more of our playing cards in the slideshow below:
PHOTO GALLERY
Women's History Month Artists
Images © 2013 The Jay DeFeo Trust / Artists Rights Society (ARS), New York
Front of card: Jay DeFeo Portrait, photo by Mimi Jacobs
Back of card: "The Black Canyon"