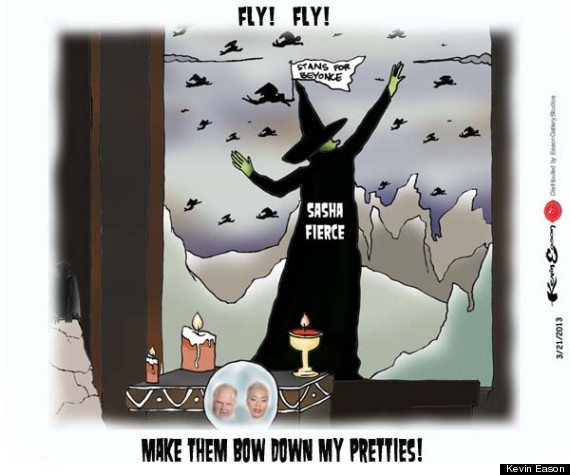 This year is certainly Beyonce's year. The superstar has been the talk of the town since the beginning of 2013, and that trend only continued after Queen Bey released her cutthroat and controversial new single "Bow Down."
The singer triggered a bit of a firestorm once the tune hit the web, and even garnered a response from fellow music divas who criticized the song's lyrics. But one response seemed to come out of left field, from a critic no one expected to hear discuss Mrs. Carter--none other than conservative radio host Rush Limbaugh.
Limbaugh offered a curious--and all-around inaccurate--explanation of Queen Bey's song.
"She's done a total 180," Limbaugh said of the star. "Beyonce's now saying 'Go ahead and put up with it!' ... She's going to call herself Mrs. Carter on the 'Bow Down B----s' tour."
He added, "She got married, she married the rich guy, she now understands. She now understands that it's worth it to bow down. And she's passing on that advice."
But while Mr. Limbaugh spreads his misinterpretation, Beyonce fans are not happy about anyone criticizing the queen's creativity. Cartoonist Kevin Eason illustrates this, showing Sasha Fierce sending her flying stans out to attack her critics, only proving further that Beyonce is the girl who runs the world.
What do you think of Rush Limbaugh's interpretation? What do you think of Bey's song lyrics? Did Beyonce throw shade at other singers and critics, or is she merely having fun and experimenting with a new music style? Do Beyonce fans blindly follow her? Share your thoughts in the comments section below.
About the artist:

Kevin Eason is a freelance editorial cartoonist and illustrator from New Jersey. His brand of satire covers news events in politics, entertainment, sports and much more. Kevin's work features include: Gannet, TVOne, Uptown, The Urban Daily, NAACP, Cengage Publishing, Bossip, WBLS_107.5FM, and various newspapers and magazines throughout the country. Follow him on Facebook.
PHOTO GALLERY
The Political Satire Comedy Of Kevin Eason