It's Friday and by now, your so called flu-like symptoms should be in full effect. You're still home, battling the elements, and watching the NCAA Tournament. To this, I applaud your efforts.
With Thursday in the books, let the round of 64 roll on again. Here are 10 things to watch for when you're not puking or ducking your boss' phone calls and emails.
1. Different Dookies?
Duke is hard to judge because it has just one loss with senior forward Ryan Kelly in the lineup. Yet it gives up nearly 20 points per game against the RPI top 100. Albany isn't a scare, but the Devils have to get Seth Curry and Rasheed Sulaimon going in order to complement Kelly and Mason Plumlee, because a potential second-round tilt with Doug McDermott and Creighton looms.
2. Speaking Of McDermott.
College basketball's most efficient player averages 23 points, and shoots 56 percent from the floor and 49 percent from deep. His dad is the coach, he was lightly recruited after coming out of high school with mega 5-star teammate Harrison Barnes, and he's still a junior. Yeah, I love this kid.

3. Which NC State Will Show Up?
NC State was picked to win the ACC this season, but has struggled as a member of the hunted. Point guard Lorenzo Brown (7 assists) is a difference-maker, though, and C.J. Leslie -- despite underachieving -- remains a sensational talent. Temple is a tough out, but if Mark Gottfried's club can advance, the Wolfpack is a scary team for Indiana in the second round.
4. The Coach's Wife.
TV producers just cannot resist an attractive woman on screen, as we know. Florida Gulf Coast head coach Andy Enfield -- aside from having a dangerous 15 seed -- is married to model Amanda Marcum.
5. Fearless Gunner, Marshall Henderson.
He's not quite Jimmer or Steph Curry talent-wise, but Ole Miss guard Marshall Henderson and his endless antics on the floor -- and off the floor -- is as can't-miss as we get in March. Henderson averages 20 points and shoots an insane average of 11 three-pointers per per game for the Rebels, something Wisconsin will try to thwart as only a Bo Ryan-coached team can.
6. Beware Of The Triple.
Speaking of shooting the three, Illinois -- who has beaten Illinois, Gonzaga, Indiana, Butler, Ohio State and Minnesota this season -- relies on the triple more than anyone in the field. Brandon Paul is capable of getting 40, but Colorado has a stellar point guard with 6-foot-6 Spencer Dinwiddie. This should be a very entertaining 7-10 matchup.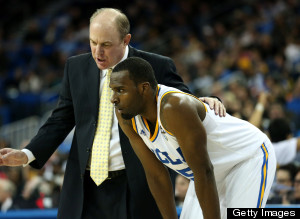 UCLA head coach Ben Howland needs some magic from star freshman, Shabazz Muhammad.
7. Straight Buckets.
Iowa State ranks fourth in the nation in scoring average (79.6), and like Illinois, has a barrage of three-point shooters who can bury you in a one-game format. Head coach Fred Hoiberg -- known to make a few jumpers in his day -- has an interesting team led by point guard Korie Lucious (the Michigan State transfer) and Chris Babb, one of the premier defenders in the country.
8. UCLA, The Struggling Blue Blood.
The Bruins are the most vulnerable 6 seed in the field without second leading scorer Jordan Adams, who broke his foot last week. Shabazz Muhammad has a good, if not spectacular, freshmen campaign, but will need to get hot and stay hot for UCLA to advance past the first weekend.


9. The Hot Seat?
UCLA head coach Ben Howland has already endured a brutally embarrassing investigation, but faces another disappointment if his club cannot beat Minnesota in the first round. Howland -- whose contract extends through 2015 -- has been under fire for a few years. Remember, the Bruins failed to qualify for the dance in two of the last three seasons. Being a 6 seed despite the nation's second-ranked recruiting class doesn't help, either.
10. The Benefit Of College Personified.
Who says nobody stays in school? Three years ago, Victor Oladipo was an under-recruited swingman who averaged 12 points a game as a senior in high school. Last year, he was a late second-round pick. As a junior though, Oladipo has broken out and become a sure-fire lottery pick. He's still a bit unrefined, but he has been instrumental in Indiana's national revival. He and Cody Zeller are worth watching, even in a 1-16 game.
Email me at jordan.schultz@huffingtonpost.com or ask me questions about anything sports-related at @Schultz_Report.
BEFORE YOU GO