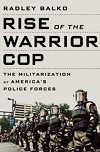 Note: The "Raid of the Day" features accounts of police raids I've found, researched, and reported while writing my forthcoming book Rise of the Warrior Cop: The Militarization of America's Police Forces. It's due out in July, but you can pre-order it here.
On July 19, 1993, Brian and Elizabeth Davis, their infant, and their two-year-old son woke to the sound of armed, masked police officers from a narcotics task force breaking into their home.
The Davises had been involved in an ongoing dispute with neighbors. At some point, the neighbors suggested to police that the couple was manufacturing methamphetamine. As evidence, the neighbors noted a faint smell of cat urine coming from the Davis home, and pointed out that Brian Davis had "no visible means of support."
In fact, Davis was an opera singer. The raid turned up no drugs or evidence of any illegal activity. In a subsequent investigation, the Pennsylvania Attorney General's Office called the raid "unfortunate," but insisted that in sending armed, masked men to storm a family's house early in the morning -- based only on a tip from aggrieved neighbors -- the police had "acted properly."
The state settled with the Davises in 1996 for an undisclosed amount of money.
(Raid of the Day archive here.)
Sources: Dick Cowen, "Odors didn't lead to drugs," Allentown Morning Call, January 15, 1996; Dick Owen, "State settles lawsuit over city drug raid," Allentown Morning Call, January 15, 1996.