If the Sweet 16 is anything like the NCAA Tournament's opening weekend, then hang on to your seats. An array of blue-blood matchups fills the docket, starting Thursday. Ohio State versus Arizona, Indiana versus Syracuse? Are you serious?
Here's a look at the 10 things you can't miss on Day 5 of the dance.
1). Point Guard Heaven
Miami's Shane Larkin is just a sophomore, but he's already one of the best pure play-makers and clutch shot-makers in America. Arizona's Mark Lyons is a jet who's equally tough in the lane. Ohio State's Aaron Craft (see below) is a sensational defender and fearless attacker, and Indiana freshman Yogi Ferrell is somewhat of a combination of all three. Oh yeah, then there's Syracuse super sophomore Michael Carter-Williams, whose 7.7 assists per game ranked him third in the country.
2). Four-Out, One-In
La Salle's four-guard lineup and incessant attacking nature is just a brutal matchup, any way you slice it. Tyrone Garland and his "Southwest Philly Floater" along with Ramon Galloway's dynamic scoring ability (21 points per game in the tournament) consistently spread you out for 40 minutes.
3). Aaron Craft's "Reward"
Craft's reward for his game-winner against Iowa State? How about Arizona's Mark Lyons, a super gifted and quick scorer who has been lights-out of late. He's averaging 25 points per game in the tournament and shooting close to 60 percent. With respect to Victor Oladipo, Craft might be the best on-ball defender in the nation and Lyons presents quite the challenge.
4). Can The 'Cuse Stop Indiana?
Whether you're a proponent of the 2-3 matchup zone or not, the key to its success is activity. Against Indiana, that means hyperactivity. The 29-6 Hoosiers average 80 points per game and can literally score any which way, even when you think you've got them bottled up. Just ask Temple about that. The Orange has to be careful or else this thing could get away very quickly.
5). Scoring Machine
Speaking of scoring any which way, how about Ohio State's Deshaun Thomas. The 6-foot-7 forward can shoot the three (35 percent), loves the high post (50 percent from inside the arc per ESPN Stats & Info) and is lethal on put-backs and at the free-throw lines, where he converts at an 84 percent clip. Arizona has struggled to guard people this year, but has its own multidimensional 3-4 man in senior Solomon Hill. This should be a tremendous individual matchup.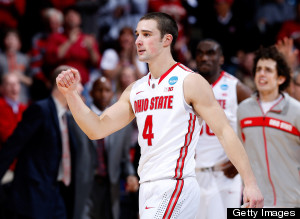 Ohio State point guard Aaron Craft is the ultimate leader and key to the Buckeyes' attack on both sides of the ball.
6). Shock Me Once, Shame on You, Shock me Twice ...
Wichita State isn't under the radar anymore. Not after beating down 1 seed Gonzaga last weekend. The Shockers rely on gruesome, Big Ten-style defense and a slew of scorers who can all make triples. It's no mistake they have come this far.
7). Hurricane "U" is Coming
Miami may have narrowly edged Illinois in the round of 32, but this team is just getting started. Marquette is a formidable opponent because of its sheer toughness, but the Canes have elite talent with Kenny Kadji and Durand Scott, not to mention rising star point guard Shane Larkin, its leading scorer.
8). Nerves???
Fittingly, the two programs in uncharted territory (Wichita State and La Salle) face off against one another. This is a massive stage, though, and the Shockers are the more balanced defensive and rebounding team. If nerves take over and neither team is hitting shots early, the edge goes to Gregg Marshall's team.
9). Old Friends
Arizona head coach Sean Miller and Ohio State lead man Thad Matta started working together in 1994. Miller served under Matta at Xavier until he left for Columbus in 2004. They've only faced one another one time, back in 2007, when this happened.
10). The X-Factor
Every one of these teams has one, but perhaps none is more important than Syracuse's C.J. Fair. His blend of length and athletic ability will bother Indiana's All-American Cody Zeller, who isn't immune to having his shot blocked. If Fair -- who averages 15 and 7 -- can go for 25 and 10, the Orange has a shot. Otherwise, Indiana will run away with this one.
Email me at jordan.schultz@huffingtonpost.com or ask me questions about anything sports-related at @Schultz_Report.
CORRECTION: An earlier version of this story included a preview of the Louisville-Oregon game, which will not be played until Friday, Day 6 of the NCAA tournament.
BEFORE YOU GO