This week in questionable and generally confusing babywear: a crisp white onesie with the words "Future Bride" bedazzled across the chest.
Jezebel posted a photo of the offending onesie that was on offer at flash sale site Zulily.com. Other items from the same designer were equally glitzy, but their messages -- "Heartbreaker" and "Born to Wear Diamonds," for example -- weren't quite as offensive. Laura Beck says that, along with the "Future Bride" bodysuit, "centuries of feminist progress," were also up for grabs.
Beck's declaration that this onesie should "never, ever," be purchased has led to much discussion in Jezebel's comment section -- readers are almost unanimously disheartened by the sparkly message. The onesie suggests that society should "base girls' worth completely off of their acceptance by a male right when they pop out of the womb," one commenter wrote.
Another pointed out that there aren't any "Future Groom" outfits on the market. "The boys have other ways to establish their identities."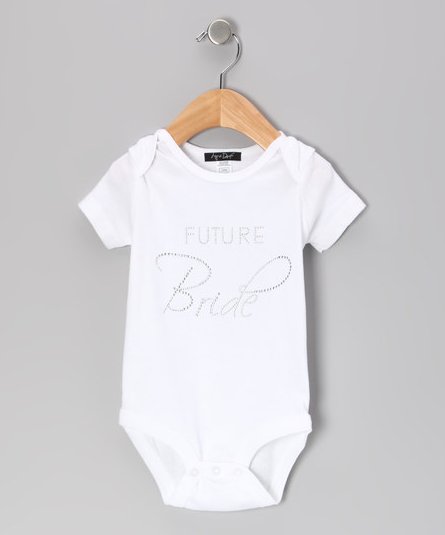 Image: Zulily
Over on The Frisky, Andrea Grimes says the outfit is problematic on a higher level. It perpetuates the idea that girls should aspire to be married -- as if "wife" is an expected role for women, and they are somehow incomplete until they fill that role. Grimes explains:
"Throughout history, one certain way to become a citizen, for women, was not to have a job or even have a child, but to have a husband. And to a large degree, that's still the case. Ask any single woman with an advanced degree, corporate job or religious ordination, and she'll probably tell you: the thing people keep asking me is but when am I going to get married."
However, it looks like the onesie appealed to someone -- it is currently sold out on Zulily's website. And, the idea of getting married in a onesie isn't completely unheard of. In February, a couple in the U.K. wore bodysuits to say "I do" and even tried to get the minister to wear a onesie too.
BEFORE YOU GO
PHOTO GALLERY
Baby Clothes That Just DON'T Make Sense On Babies