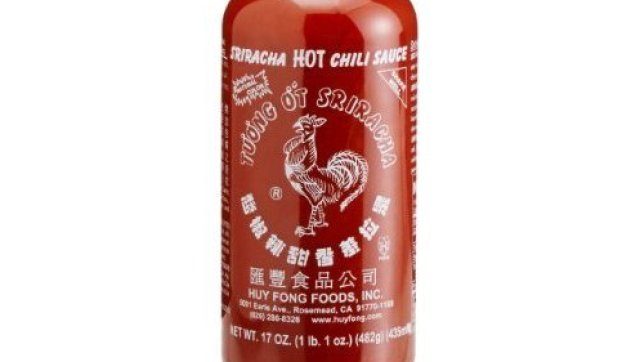 The peanut butter sandwich is such an incredibly versatile thing. It can skew sweet with jam, decadent when coated with cornflakes and griddled, savory with pickles (yes we actually ate this and loved it) and now spicy, with the aid of one of our favorite condiments.
Sriracha, the famous chile and garlic sauce, has a pretty startling versatility of its own. In the last few years, it's been applied to everything from pho to ice cream sandwiches, and has even earned itself a cookbook. We're pretty adventurous eaters, and you know we like to experiment with flavor combinations in our kitchens -- which is why we are so surprised we didn't think of this earlier. Pete Holby of On Sandwiches made a peanut butter, Sriracha and green apple sandwich. Proof that it's real: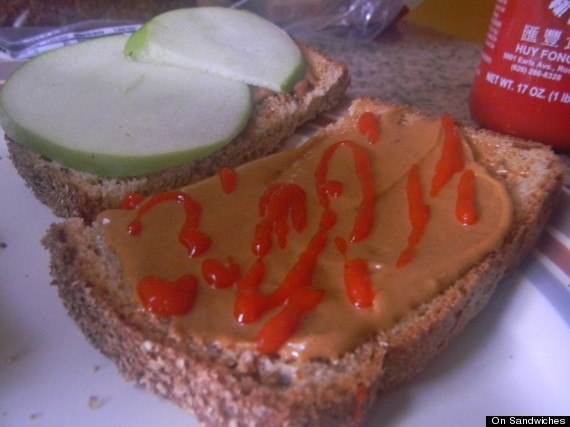 It seemed crazy at first, but this flavor combination totally makes sense. We've had and loved spicy peanut butter before, so why not tailor it to our own preferred spice level with Sriracha? Against the rich peanut butter and salty hot sauce, we bet the tart crispness of the green apple is a welcome addition. Okay, you've convinced us. We're going to try it. Get the Sriracha, Peanut Butter and Green Apple Sandwich recipe (plus five other takes on the peanut butter sandwich) from On Sandwiches.
[via Reddit]
Want to read more from HuffPost Taste? Follow us on Twitter, Facebook, Pinterest and Tumblr.
BEFORE YOU GO
PHOTO GALLERY
Peanut Butter Lovers