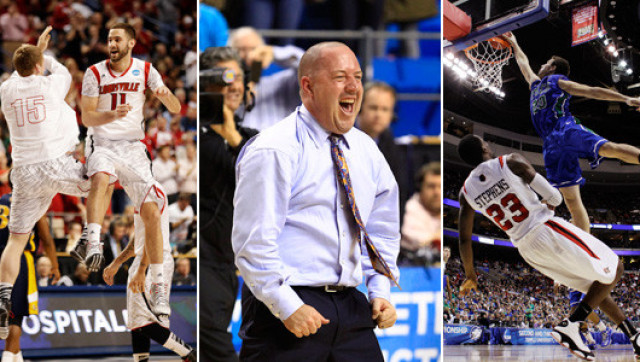 Thirty years after Jim Valvano's Cardiac Pack eked out one nervy win after the next en route to the national championship, Buzz Williams' Marquette squad has taken a similar path to the Sweet 16.
Valvano's sixth-seeded NC State squad escaped the opening round of the 1983 NCAA Tournament with a 69-67 win over No. 11 Pepperdine. In the second round, the Wolfpack earned a 71-70 upset over No. 3 UNLV. NC State's +3 point differential through two games matches the combined margin of victory for No. 3 Marquette entering the Sweet 16 in 2013. The Golden Eagles face No. 2 Miami on Thursday in Washington, D.C. with a spot in the Elite Eight on the line.
While Marquette has embodied the "survive and advance" ethos of the tournament perhaps better than any team in the field, No. 1 overall seed Louisville has reached the round of 16 by thriving and advancing. Through two games, the Golden Eagles' point differential is +3. For Louisville, that figure is +57.
By buzzer beater or blowout, one win is as useful in the next when it comes to reaching the Final Four. But that doesn't mean a "W" tells the tale of the journey. Here is a look at the results and combined point differentials thus far for each of the Sweet 16 teams.
PHOTO GALLERY
Sweet 16 Team Point Differentials
BEFORE YOU GO