Michael Greenhorn looks nothing like Frodo Baggins from "The Lord of the Rings," yet his discovery of a mysterious gold ring has set him on a bizarre journey that even a Hobbit could respect.
Greenhorn, a metal detector enthusiast, stumbled across the ornate piece of jewelry, adorned with a large sapphire and measuring 1 inch across, in a field near the village of Escrick, south of York, England, in 2009. Per the BBC, experts originally believed the treasure, now called the Escrick Ring, dated back to the 10th or 11th centuries.
Now, a panel of experts say the jewelry is even older and more mysterious than they thought.
According to a release from the Yorkshire Museum, the Escrick Ring likely dates back to the fifth or sixth century, was manufactured elsewhere in Europe and may have belonged to a king. In addition, historians believe the sapphire was likely cut still earlier, possibly during the Roman period.
"Nothing like it has been found in this country from the 5th or 6th century," said Natalie McCaul, curator of archaeology at the Yorkshire Museum, in the release. "Hopefully this will lead us to finding out more about the ring and possibly even who might have owned it."
One thing that isn't a mystery, though: the ring's value.
Greenhorn sold the Escrick Ring to the Yorkshire Museum for $50,000. The museum will conduct further analysis.
PHOTO of the Escrick Ring: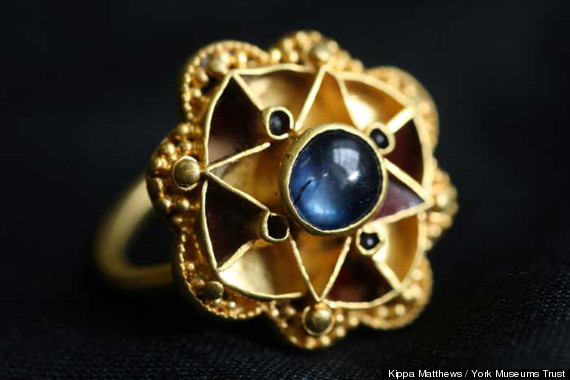 BEFORE YOU GO