From AccuWeather's Jillian Macmath:
As Memorial Day and the start of the summer season nears, almost an entire rebuild is underway at the Jersey Shore, after Superstorm Sandy devastated homes and businesses last fall.
When Sandy made landfall in New Jersey on Oct. 29, 2012, locals evacuated with prized possessions and a few days worth of spare clothing. Few anticipated the severity of the storm and how long displacement might last.
Nearly five months later, hotels, restaurants, shops and attractions are preparing to re-open and are in need of a heavy tourism season. Homeowners, however, have their reservations about what conflicting messages the public may be receiving.
Lou Cirigliano is the Director of Operations at Casino Pier and Breakwater Beach, an iconic part of the coastline for many who have spent their childhood summers at the Jersey Shore.
Casino Pier's signature attraction, the Jet Star roller coaster, was framed as the backdrop for Sandy's devastation, as it washed into the ocean and remained dismally amid the water for months after the storm.
Despite severe damage to the pier and its attractions, Cirigliano is set on re-opening.
"We are still hopeful of being able to bring the entire property east of Ocean Terrace back by Memorial Day weekend," Cirigliano said.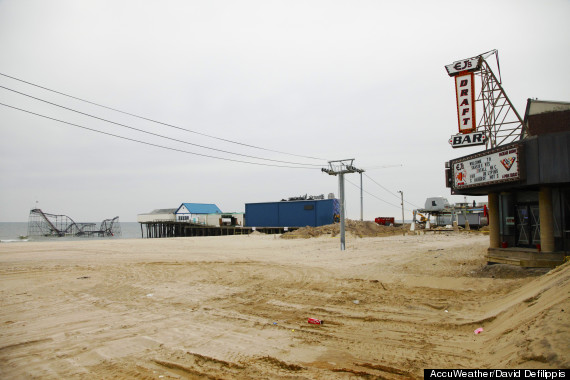 The iconic Jet Star rollercoaster seen in the background was washed into the ocean during the wrath of Superstorm Sandy. (Photo courtesy of AccuWeather.com's Senior Videographer David Defilippis)
"It is still a very long process yet. We have no electrical services or utilities there. We are working hard and things will begin in ernest this week, but in only two months there is still a lot to be accomplished."
The pier is being disassembled in areas deemed structurally unsound and new pilings are being placed where fresh boardwalk will lie in the future.
Like many, Cirigliano has struggled with the frustration of new building requirements and the bureaucracy of insurance companies and governmental agencies.
"We can't wait to do the required work, but with all our damage we sustained, we also need to do certain things based on the procedures the insurance representatives dictate," Cirigliano said.
"The rebuilding process has been quite complicated -- more so than I ever imagined."
Cirigliano is just one of many facing the same plight.
Ohana Grill in Lavallete has been closed since Sandy ransacked the town in October.
"Between the winds that knocked the power lines down and the surge of water that overtook the barrier island, our restaurant was in bad shape," restaurant owner and Head Chef James Costello said.
Winds gusted to near 90 mph in the hardest-hit areas of New Jersey, knocking out power to more than 2.4 million customers. Sandy's destructive winds were responsible for more than double the number of power outages caused by Irene in 2011.
Ohana Grill, which opened two years ago, received one and a half feet of water damage and required Costello to replace the floor and 4 feet of the bottom sheetrock. What was salvaged sits in storage, awaiting the restaurant's official reopen.
"Every time we meet with the landlord we feel his frustration that to date none of his insurance claims have even come close to settling. Basically, right now we are building in the 'hopes' that everything being spent will be covered," Costello said.
Costello says it has been a "leap of faith" for him and his wife.
"I had a discussion with my wife prior to beginning the rebuilding process that there was a possibility that we would take on substantial debt to reopen. We decided, together, to go forward. This had always been our dream together and we couldn't let this storm take it away," he said.
Despite a hopeful attitude, the coast is draped with concern, from both business and homeowners alike.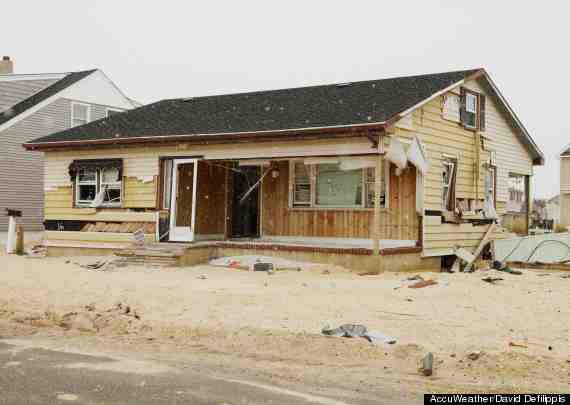 Sandy damage is still rampant along the coast five months post-storm. Entire streets are vacant in some towns. (Photo courtesy of AccuWeather.com's Senior Videographer David Defilippis)
"I think we will see people returning to Seaside to support the businesses that are back opened, but I fear that the rentals and hotels they used to stay in may not be reopened in time...," Cirigliano said.
Businesses to the north of Casino Pier were severely impacted, and Cirigliano questions whether they will ever return.
"I know the phones have been ringing about the summer, and that is keeping us optimistic. If the amount of people in town on the weekends so far is any indication, things will be good."
But for homeowners, there is a dangerous mixed message of preparedness for the summer season and disrepair in the community.
Faith Ligouri, a resident of Seaside Park, has returned to her home but has not yet been able to restore the first floor, which sustained severe water damage and has since been gutted.
"I'm excited today because B&B is open, a local store down the street," Faith told AccuWeather on March 16. "I'm happy to see them back."
"I don't want to discourage people from coming and visiting, it's important to our businesses and our economy but I would beg the world, honestly, to understand that we are not whole. And we will not be whole for years to come because we all have to face, how are we going to rebuild our homes," she said. "And no one can give us a clear and financially do-able answer to that."
The elusiveness of federal mitigation grants and insurance payouts is breeding frustration in the community.
"I feel like there is a perception that the Jersey Shore is wealthy or these are people's second homes and that's really not true. These are our primary homes. And we need support, financially, emotionally and physically," Ligouri said.
"And that's what I'd like people to know. While our streets may be clean, our houses are empty."
BEFORE YOU GO
PHOTO GALLERY
Hurricane Sandy