Love is love.
This week love approached the bench as the Supreme Court heard arguments on two pieces of legislation that could lead to a historic rulings on same-sex marriage.
On Tuesday, the nine Justices considered the constitutionality of California's Proposition 8, which banned same-sex marriage, and on Wednesday the court heard arguments for the 1996 Defense of Marriage Act (DOMA), which establishes that no American state, district or territory must recognize same-sex marriages performed in another state.
Some of the judges seemed skeptical about Prop 8's constitutionality. Sotomayor, considered one of the more liberal justices, left an attorney arguing against gay marriage stumped when when she asked him if there was any rational basis for denying gays and lesbians benefits outside of the context of marriage.
Cartoonist Lalo Alcaraz has his own take on the issue and states it quite simply in the toon below: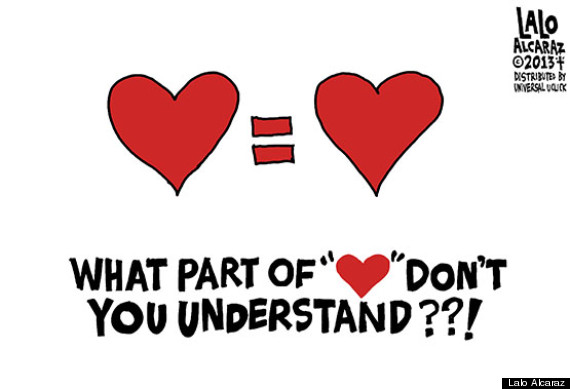 See more of Lalo's toons in the slideshow below.
About the artist:

Lalo Alcaraz is perhaps the most prolific Chicano artist in the nation, according to his own bio. Lalo has been busy for over two decades chronicling the political ascendancy of Latinos in America and vigorously pushing the boundaries of Chicano art in the Post Chicano Art Era.

An award-winning journalist and illustrator, Lalo is also an author, faculty member at Otis College of Art & Design in Los Angeles, and radio host. He is also the creator of the first nationally-syndicated, politically-themed Latino daily comic strip, "La Cucaracha."

Lalo's most recent project is a re-boot of the famed Pocho.com, his pioneering humor, satire and cerveza webzine/blog/news site.
PHOTO GALLERY
The Political Satire Comedy Of Lalo Alcaraz
BEFORE YOU GO