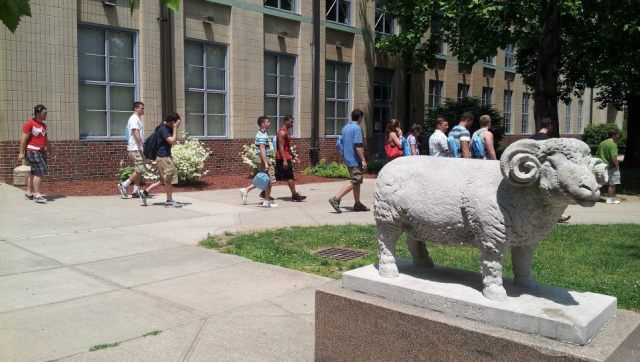 UPDATE: 2:45 p.m. -- The University of Rhode Island lifted the campus lockdown Thursday around 2:15 p.m., announcing the all-clear on its Facebook page:
The Kingston campus lock-down has ended. State police have cleared Chafee Hall. The investigation has revealed that at no time was there a gun or an active shooter on the campus. Everyone can resume their normal activities. Shuttles and RIPTA will resume shortly. Classes will resume on Friday, April 5.
Police are not calling the incident a hoax, but told WPRI they do not believe there was an active gunman on campus:
R.I. State Police Col. Steven O'Donnell told WPRI.com investigators believe there was never a gun or an active shooter at URI, but he said they did recover a Nerf gun during a room-by-room search of Chafee Hall. No injuries were reported and no eyewitnesses said they saw or heard gunshots.
Previously:
Administrators locked down the University of Rhode Island's South Kingston campus Thursday morning, after police received reports of a gunman on campus, according to WCVB.com.
The website reports that a post earlier to the university's website read, "We are investigating reports of a person with a firearm in Chaffee Hall on the Kingston Campus. Secure yourself indoors (not Chaffee), stay there, and do not move about outside until further notice. The emergency alert system has been activated." However, the university's website appears to be down as of late Thursday morning.
Rhode Island State Police told the Associated Press that "there is no evidence of an active shooter." According to a tweet by Ted Nesi, a reporter at WPRI in Providence, state police have reiterated to Tim White, another reporter for WPRI, that there's no evidence of a gunman at the university, and that police are going through campus.
BEFORE YOU GO
PHOTO GALLERY
Recent Shootings On College Campuses In The Past 3 Years