Insomniac, the company behind large-scale American dance music festivals like Electric Daisy Carnival, has partnered with Cream to launch its first-ever event in the United Kingdom.
The event, also called Electric Daisy Carnival, will take place July 20 at Queen Elizabeth Olympic Park.
In a press release furnished by Insomniac, CEO Pasquale Rotella says it seemed like a smart opportunity. "Bringing Insomniac's Electric Daisy Carnival experience across the Atlantic to London has been my dream for years and I couldn't ask for a better partner than Cream, who is a world-wide fixture in electronic dance music culture," Rotella said. "I'm confident that our collaboration will expose Insomniac's returning fans and those who have yet to visit our United States festivals an opportunity to unite this summer in London."
Cream, which is part of Live Nation's electronic division and is the team behind Creamfields, was similarly excited about the announcement. "We are really excited to be collaborating with Insomniac for what will be a spectacular event this summer," said James Barton, president of Electronic Music at Live Nation. "Electric Daisy Carnival is already an important and prominent international brand, and we believe it will thrive in the UK in 2013."
If Queen Elizabeth Olympic Park sounds familiar, it's because the venue played host to the Summer Olympics.
In addition to the event announcement, a partial line-up was released. Among the names included: Tiesto, Avicii, Steve Angello, Alesso, Hardwell, Madeon, Porter Robinson, Rusko and Caspa.
Early bird tickets will go on sale Tuesday, April 9 at 1 pm EST.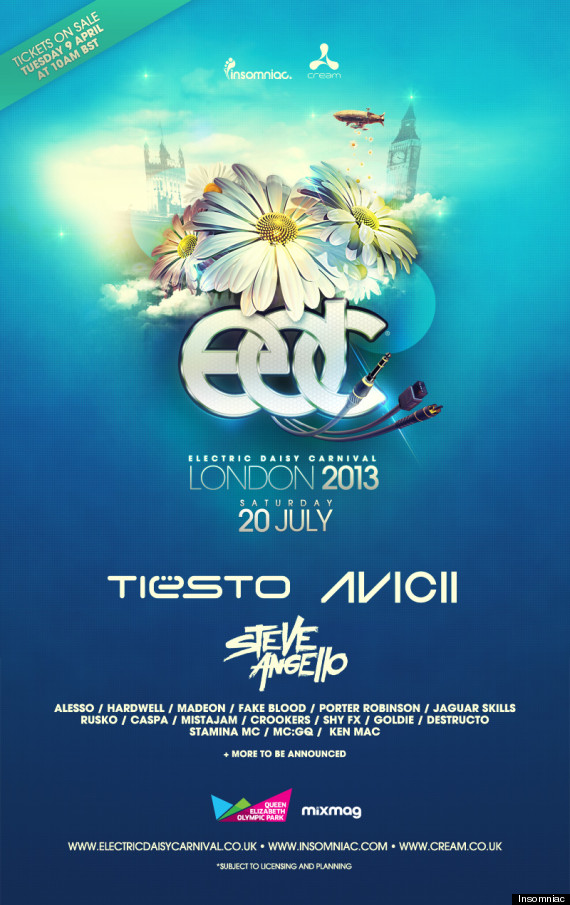 BEFORE YOU GO