In the network's latest effort to rebrand itself, CNN literally "reintroduced" itself on Monday.
In a new ad, which took up a full page in The New York Times and appeared online, CNN highlighted its top talent. Underneath the headline "Allow Us To Reintroduce Ourselves," headshots of anchors including Anderson Cooper, Christiane Amanpour, Jake Tapper, and Wolf Blitzer appeared.
CNN's new morning show hosts Chris Cuomo and Kate Bolduan were also included, as were primetime hosts Piers Morgan and Erin Burnett. Rachel Nichols, Sanjay Gupta, Fareed Zakaria and Anthony Bourdain were also in the mix. Bourdain's new weekend travel show premieres on Sunday, April 14.
The ad also "reintroduces" CNN as a network with twice as many male marquee personalities. The names CNN decided to leave off the ad are also noteworthy. Candy Crowley was not included, the "State of the Union" host whose response to the Steubenville rape trial verdict and her performance moderating a 2012 presidential debate came under harsh criticism. CNN regular John Kingand weekend host Don Lemon were also left off the ad.
CNN has undergone multiple changes since Jeff Zucker took over as president in January. Most recently, multiple outlets reported that the network is bringing back "Crossfire," the debate show made famous in part by a memorable appearance by Jon Stewart.
PHOTO: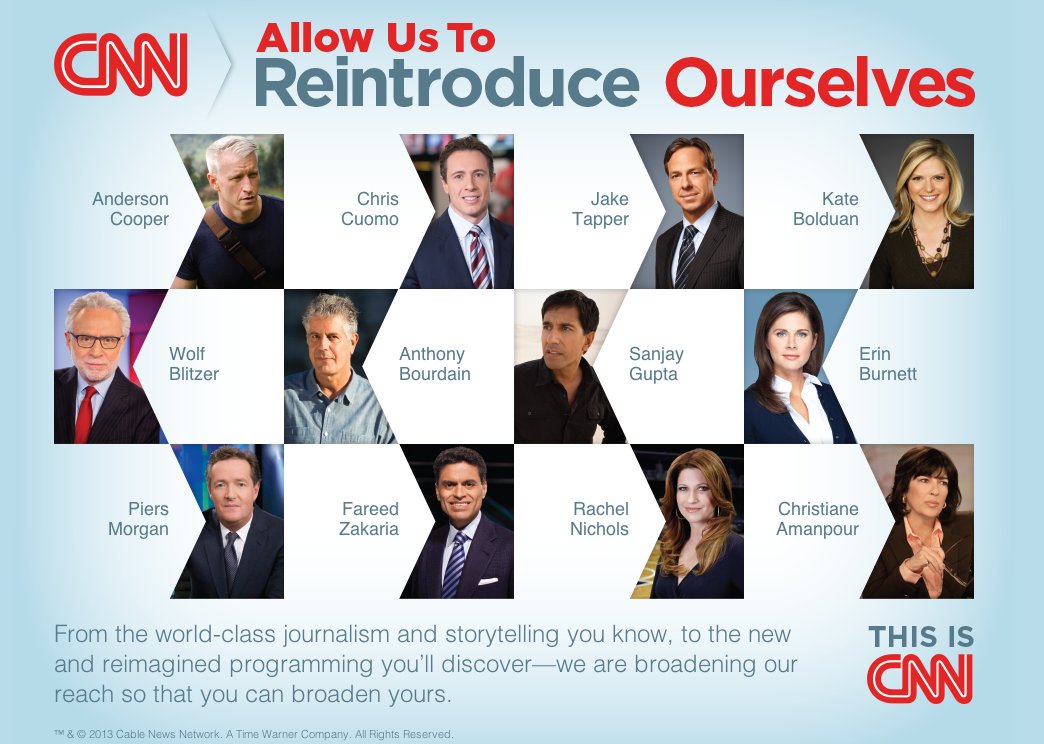 BEFORE YOU GO