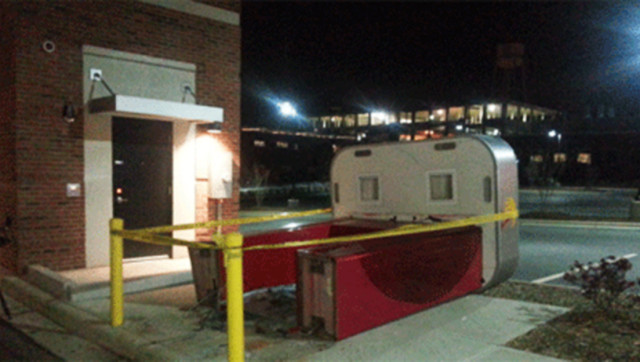 A brazen thief stole an excavator from a construction site Monday morning, then used it to knock over and steal an ATM -- and cops are having trouble digging up clues.
Details are sketchy, but police say a short man climbed into the excavator at a Winston-Salem, N.C., construction site sometime before 1 a.m., WXII reports. The suspect then drove 200 yards to an ATM kiosk, knocked over the 2,000-pound cash machine, and made off with that, too.
Using the excavator's claw, the thief dropped the ATM into a waiting vehicle and left with an unidentified amount of cash, WGHP reports.
Surveillance footage shows that a black Crown Victoria with tinted windows was involved in the heist. The suspect vehicle was last seen leaving Vine Street, going east on Martin Luther King Drive. The thief is described as a white male, possibly short in stature because he had to reach for the excavator's steering wheel, according to WFMY.
Past that, police haven't released any details. It's also unclear whether the thieves left with the excavator.
Police ask for anyone with information to call Crime Stoppers at (336) 727-2800.
BEFORE YOU GO
PHOTO GALLERY
Bank Robbing Bandits