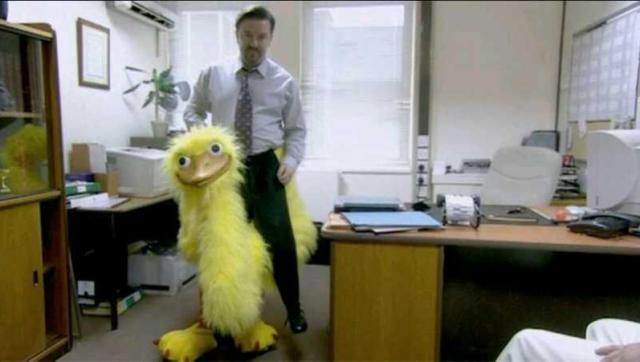 A suicidal man had a change of heart during an accidental viewing of the UK version of 'The Office.'
On Saturday, Jody Parrish, 32, told the Sun that he had already left a goodbye note and sent a text message with the intention of ending his life, when he accidentally stepped on the TV remote. The remote unwittingly started an episode of the hit comedy, and the father of two, whose six-year relationship recently ended, stopped to watch the DVD for five hours.
"I'd not seen it in years but I don't think I've ever laughed so much," Parrish told the Sun. "I realized I had lots to live for."
On the show, Ricky Gervais plays floundering boss David Brent, who is famed for the catchphrase "Fact."
Gervais responded to the news on Twitter:
This is great thesun.co.uk/sol/homepage/n…Thanks to everyone who sent me it. Have a lovely day.

— Ricky Gervais (@rickygervais) April 8, 2013
Parrish, who was staying with his mother in West Yorkshire when the incident occurred, has since started medication for depression.
In March, a French woman's dog reportedly saved her from committing suicide.
And, in 2011, A New York City subway clerk thwarted a suicide attempt by turning off the power to the tracks as a train approached.
Need help? In the U.S., call 1-800-273-8255 for the National Suicide Prevention Lifeline.
BEFORE YOU GO
PHOTO GALLERY
The Internet Saved My Life