There are millions of Tumblrs. Billions of Tumblr posts.
So what an honor it was for Stacy Lambe and Adam Smith when their "Texts From Hillary" Tumblr was named the best Tumblr of 2012 at the Shorty Awards on Monday night in New York.
"Thanks to everyone for their endorsement of our future jobs on Hillary's 2016 campaign," they joked in a joint acceptance speech. (Of course, the Hillary 2016 buzz continues.)
The Tumblr blog beat out a number of other nominees, including "My Friends Are Married," "Eat Sleep Draw," "Binders Full of Women," "Everyone Is Gay," and "Oscar PR Girl."
Lambe tweeted after the award ceremony, "I think it's safe to say my 15 mins are up. :)"
He added a few minutes later in a reply, "i guess it's time to make a new meme?"
Smith joked on his own Twitter account:
But will my friendship with @sllambe survive the battle of who gets the #shortyawards trophy?

— Adam Smith (@asmith83) April 9, 2013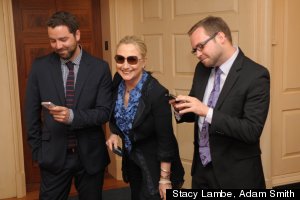 Clinton herself met with Lambe and Smith, as seen in the picture here, after the Tumblr went viral.
"We didn't even believe it at first," Smith said at the time about the prospect to meet Hillary.
You can find some of the posts from "Texts From Hillary" below or view the Tumblr in full here.
PHOTO GALLERY
Texts From Hillary: Priceless Messages From The Secretary Of State