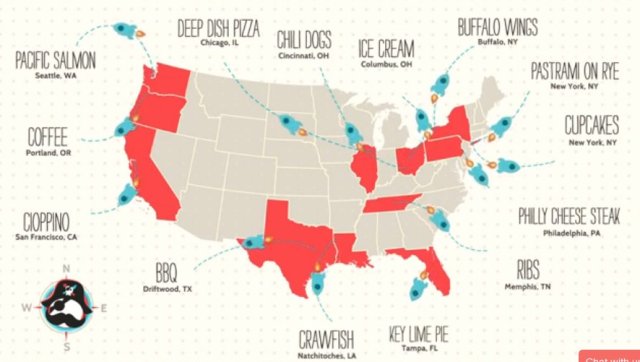 "Send a salami to your boy in the army." That's the battle-cry that's rung out on the wall's of New York City's iconic Katz's Delicatessen since WWII. They never stopped shipping food nationwide, and now the team at Goldbely is following their good example.
The team at Goldbely describe themselves as food explorers, on a mission to discover all things delicious. That means that along their journey to discover the best food in every corner of the U.S., they've set up shipping deals with iconic regional food producers. Lots of these shops and restaurants, like Katz's in NYC and Jeni's Splended Ice Creams in Columbus, Ohio, have nation-wide shipping built into their business model already. But, on Goldbely's list of foods available to order-in, you'll also find less frequently shipped delicacies like Jack Stack BBQ in Kansas City, Boudin Bakery in San Francisco, even shrimp étouffée from Poche's Cajun Market in New Orleans.
Since these products are usually only shipped in large quantities, Goldbely (a Y Combinator-backed start-up) is essentially giving you an excuse to throw a regional food party with a bunch of your friends. We're obviously on board. Check out their (kind of cheesy but still mostly endearing) promo video below.
Click over to Goldbely to check out the roster of restaurants, bakeries and other food producers they've rounded up so far. What do you think? Food party?
Want to read more from HuffPost Taste? Follow us on Twitter, Facebook, Pinterest and Tumblr.
BEFORE YOU GO
PHOTO GALLERY
Our Favorite Food Gifts From Etsy