Posters for Tom Cruise's newest film, "Oblivion," are plastered around New York City subway stations at the moment -- some heavily graffitied with warnings about the "Jesuits' war on America." Regardless, there was something I found really appealing about this poster.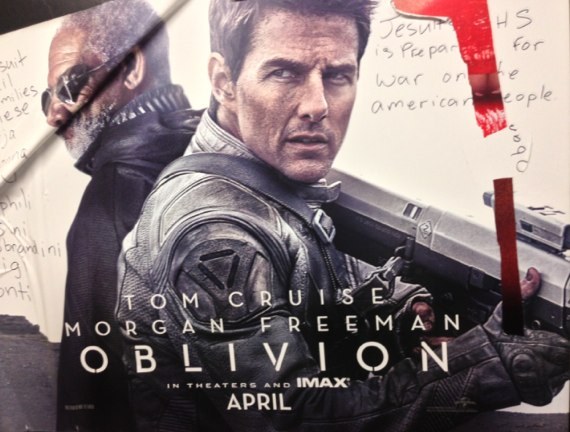 Photo by Mike Ryan
Graffiti aside, it's that particular style of "Oblivion" poster which stands out out among the film's other advertisements. For instance, this version of the "Oblivion" poster displays more of Cruise's right hand than other versions. What about that right hand makes "Oblivion" look so appealing?
Well, with Cruise's head and body position the way it is, along with his now visible hand (holding a rifle in what creates a thumbs-up position) and his patch-festooned military uniform, I finally realized why this poster caught my attention. Take a look for yourself (on a non-graffitied version that I found):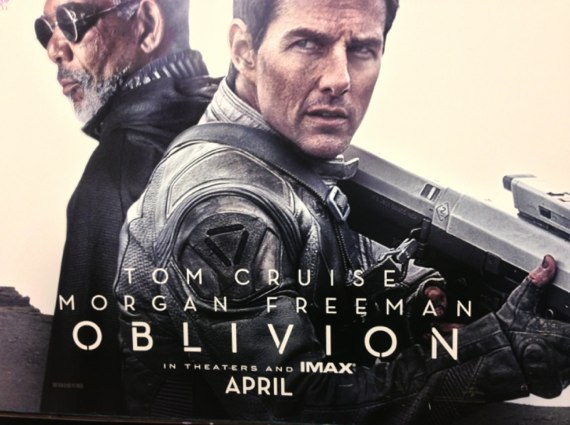 Obviously, there's no way to know if this is an intentional nod to "Top Gun" or not. Let's just pretend, though, that it is intentional. If so, getting us (or, admittedly, maybe just me) to subconsciously remember the height of Tom Cruise's popularity would be some fairly great marketing.
Mike Ryan is senior writer for Huffington Post Entertainment. You can contact him directly on Twitter.
PHOTO GALLERY
Celebrity News & Photos
BEFORE YOU GO