What do you get when you combine high-powered Cyalume glow sticks, Northern California waterfalls, and two daring photographers? The answer is this stunning series of long-exposure snapshots, part of a project aptly titled "Neon Luminance."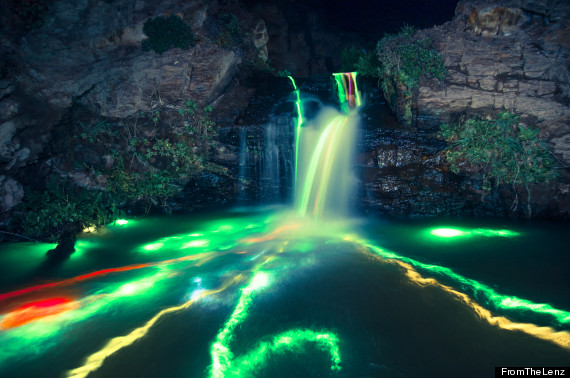 The photos, captured by artists Sean Lenz and Kristoffer Abildgaard of the multimedia production company From the Lenz, were created by dropping glow sticks into the water and snapping pictures of the multi-colored objects as they floated down steep drop-offs. Keeping the shutter open for 30 seconds to seven minutes, the resulting long exposure images show trails of neon lights that look like they belong on another planet.
For those worried about the environmental impact of the project, the Cyalume sticks remained sealed throughout the shoot and the buoyant props were collected at the end of the exposure. Scroll through the images below for more of the gorgeous waterfall photos. You can see other long-exposure illumination on the artist's website here.