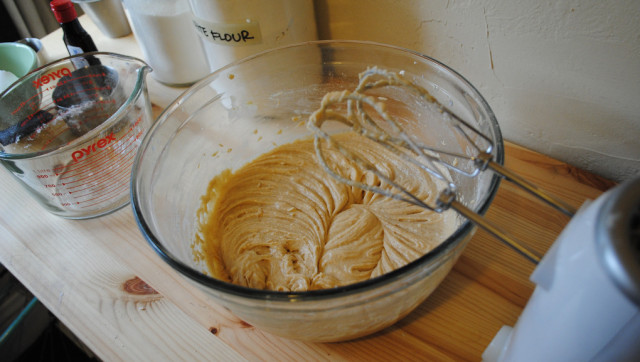 There's this thing about family recipes that we absolutely cannot get enough of: even if the recipe is not perfect, ground-breaking in any way or even the best, family recipes just rule. We grew up eating these things, either at the hands of our parents, grandparents, eccentric aunt who would only bring one recipe ever to family gatherings -- you get the idea. We, as you guys most certainly realize, are incredibly attached to the food that brought us to where we are today: writing and thinking mostly about food, for the foreseeable future.
The recipe I want to talk to you about today is not one of my family recipes by birth, but by choice. My husband's grandmother is named Lorraine (or, as the kids in the family refer to her, Nana). Once being folded into the family, I began to hear the excited, hushed rumors: "If Nana comes up this weekend, maybe she'll make snickerdoodle." Being new, I chuckled to myself about their odd syntax. Did they mean she would just make one single snickerdoodle cookie? The sugary, cinnamon-laced cookies were some of my favorites, but why were my brothers and sisters-in law referring to them as a singular thing? Here's why: this snickerdoodle is a cake. Snickerdoodle cake.
The adult children in this family are relatively even-keeled when it comes to food. They love it, but they only occasionally view it as a singular destination or reason for celebration. There is just something about Nana's snickerdoodle that brings them to their knees. Their adoration of this cake is so intense that Lorraine always makes multiples, because one will be gone before you even realize it, squirreled away by one of the kids or -- sorry to call you out, big guy -- their father.
When Nana finally did come up to make snickerdoodle, I'd be lying if I said I didn't understand the hype. The amount of cinnamon that you put in this batter is enough to perfume the entire house as it bakes (it is sitting on my desk as I type, making the office smell like cinnamon). When it comes out of the oven, it is slightly puffed, golden and tender, like a giant pancake. I'm sure it can be made in other shapes, but as far as I have ever seen it, an 8" square cake pan is compulsory. You can grease the pan before you pour the batter in, but the cake always sticks, which never matters because it never lasts long enough to be removed whole from a pan.
This is the kind of cake you can eat for breakfast. You can eat it for dessert. You can also eat it in the afternoon, as you languidly stand around the counter drinking iced coffees or beers (depending on the occasion), and plan the evening's menu with the family. When I finally got the recipe (via my husband's chef younger brother, who clandestinely texted it to me like some kind of back alley drug deal), I was most amazed by two things: 1) how simple this cake is, and 2) how much sugar you put into it.
Making this cake reminds me of Lorraine. She is sweet, tough, always has an amazing story to tell and will beat you absolutely senseless in a game of Scrabble. The smell of this cake reminds me of family -- huge meals, a few too many drinks, the occasional argument, but mostly inside-jokes and always, always snickerdoodle.
Lorraine's Snickerdoodle
1 c. flour
1 c. sugar (I know. It's an occasional treat, guys.)
1 tsp. cinnamon
2 tsp. baking powder
1/4 c. melted butter
1/2 c. milk
1 egg
Sift the flour. Mix dry and wet ingredients in separate bowls, then combine. Pour into a buttered, 8" square pan, and bake at 400 degrees for 20 - 30 minutes. SO EASY.
Try to wait to eat it until it's cool enough to handle. It will be hard.
What's your favorite family recipe? Let us know in the comments!
Want to read more from HuffPost Taste? Follow us on Twitter, Facebook, Pinterest and Tumblr.
BEFORE YOU GO