A visionary and all-around superstar, Winter Vinecki became the youngest person to complete a marathon on the world's most formidable continent when she crossed the finish line of the Antarctica Marathon on March 30.
With a time of 4 hours, 49 minutes, 45 seconds, 14-year-old Vinecki traversed challenging, icy terrain and hills in 22-degree weather to clinch an impressive third place in the women's race, according to Runner's World.
"It was the toughest marathon I've done so far," the teen told The Huffington Post. "[But] it was an extraordinary experience."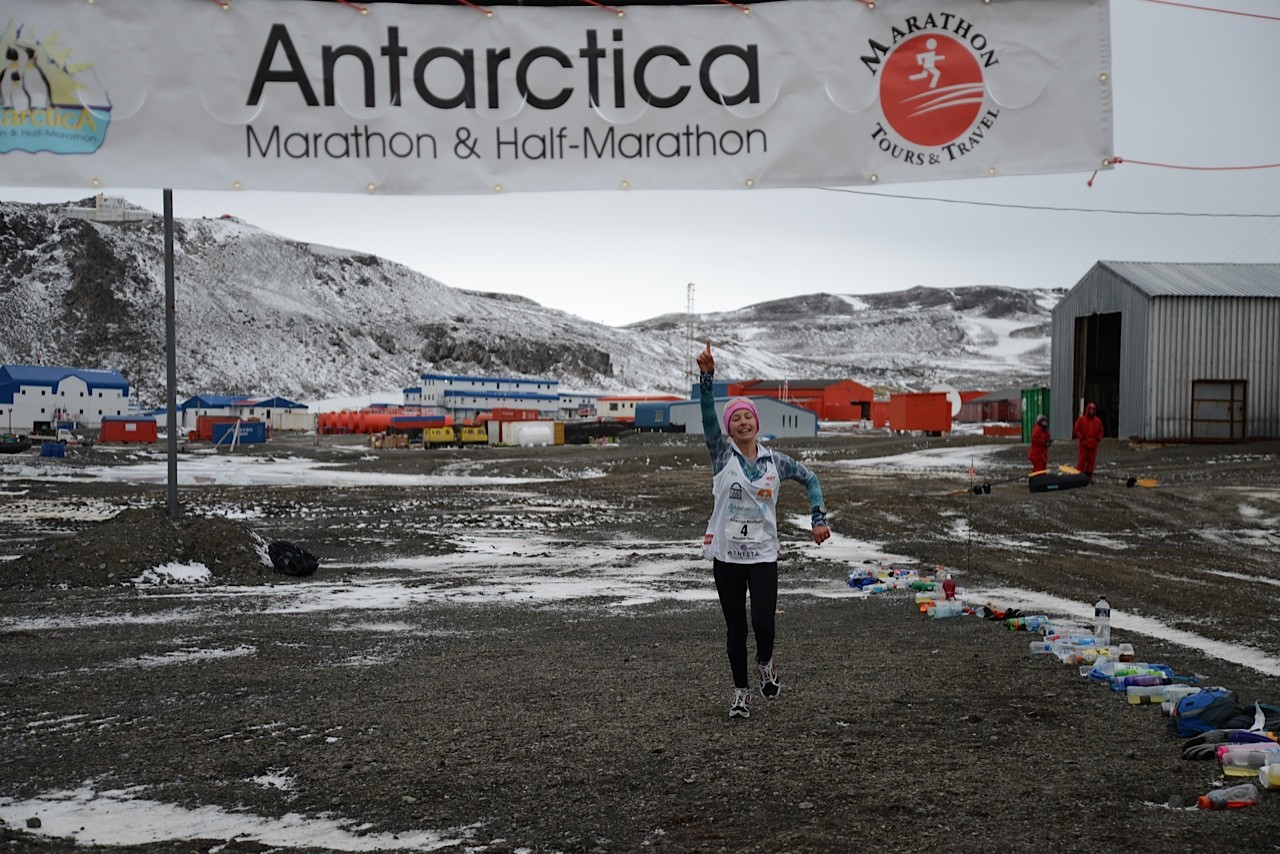 Winter Vinecki crossing the finish line of the Antarctica Marathon. (Courtesy: Team Winter)
Vinecki was quick to point out that there are even more daunting races yet to come. Her goal this year is to become the youngest person to complete marathons on every continent. Having already tackled a race in Oregon, in Kenya and now, Antarctica, the teen dynamo has four to go.
The challenging Inca Trail Marathon in Peru's Machu Picchu -- dubbed the world's toughest marathon -- is next on Vinecki's list. That takes place in June.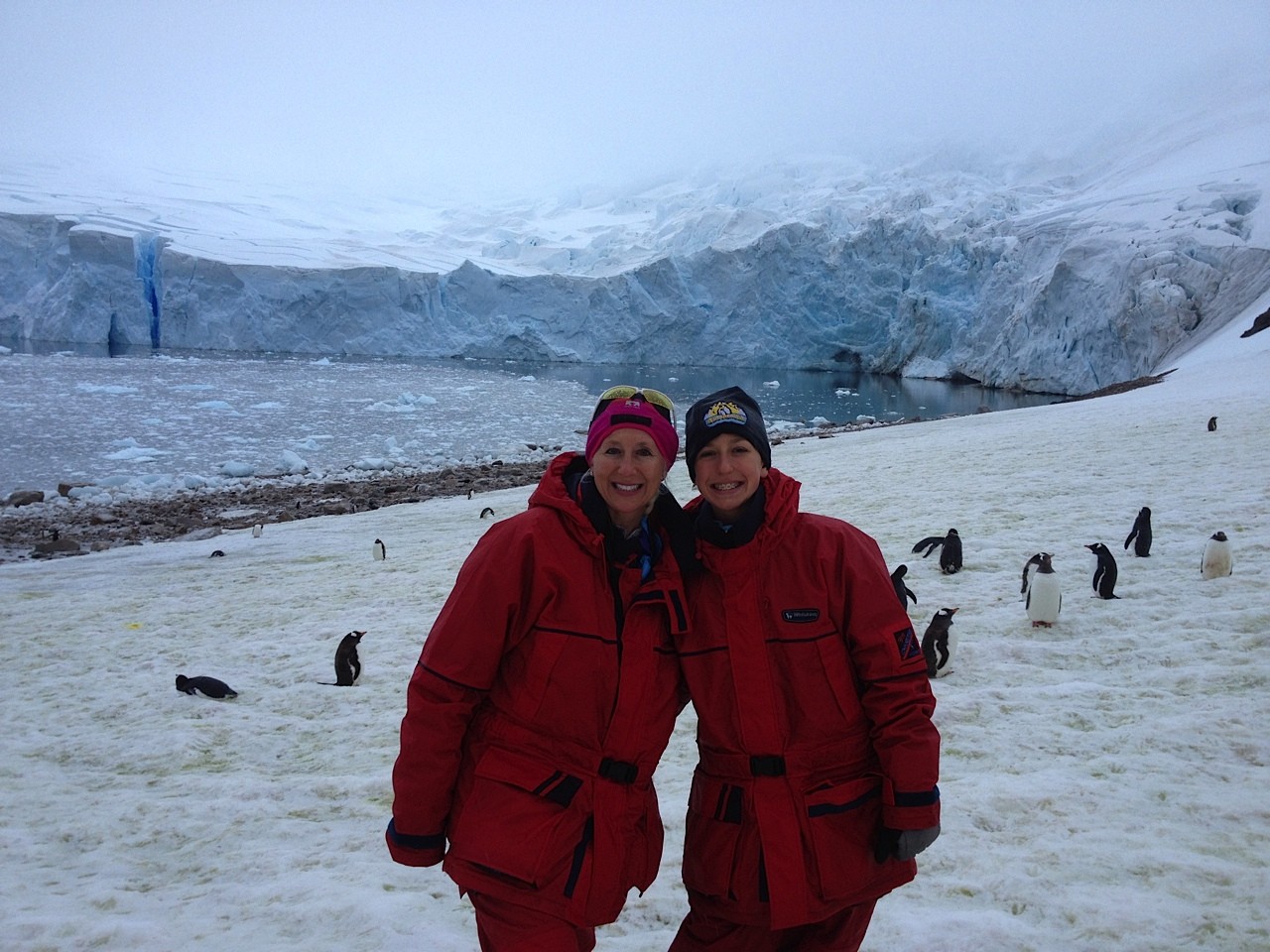 Winter Vinecki and her mom, Dawn, in Antarctica. (Courtesy: Team Winter)
The teen is no stranger to daunting challenges, however. She's been competing in marathons and triathlons since she was 5.
When Vinecki was 9, she was given the devastating news that her father, Michael, had prostate cancer. He died 10 months later.
"His death fueled my passion and determination in a way very few athletes might experience," Vinecki wrote in a blog post for CNN in March. "Since losing my dad, I have become not only a two-time IronKids triathlon national champion but also an ambassador to the sport of triathlon. I love inspiring youth across America to live an active, positive and healthy lifestyle and to race not only for themselves but for a cause."
Inspired by her father and surprised by the absence of a visible prostate cancer awareness movement, Vinecki and her mother, Dawn, decided to start the non-profit foundation Team Winter.
Vinecki's foundation has already raised about $400,000 to fund prostate cancer research. The teen's goal is to find a cure for the disease one day.
"I'm amazed by her," Vinecki's mom told the HuffPost. "She's chosen such a tough path. ... [S]he's driven by her dad's memory. She's passionate about racing and racing for her dad."
Vinecki, who won the Annika Inspiration Award in 2011, leads a demanding life. In addition to training and competing in marathons, triathlons and other racing competitions, the teen currently lives away from her family and trains in Park City, Utah, for the 2018 Winter Olympics with the aerial skiing Olympic development team. She frequently travels around the country as a motivational speaker, giving talks in both schools and corporations.
Somehow, Vinecki also manages to maintain a rigorous academic life. She's a star student at Stanford University's prestigious online high school, and she hopes to attend a top U.S. college in the future.
"It's a lot of work," Vinecki admitted, speaking to the HuffPost from the airport early Wednesday morning as she prepared to take a flight to Pasadena, Calif, where she has a speaking engagement at a middle school. "It's hard to keep up with my school work and my training. It's really tough but it's well worth it."
Vinecki returned from Antarctica on Sunday. Wasting no time, she heads to Las Vegas this weekend to compete in both a triathlon and a half-marathon.
"She's completely self-motivated," said her mother. "I honestly don't know how she does it. She's amazing."
Vinecki may be the youngest person to have completed a full marathon on Antarctica, but Runner's World points out she isn't the first young competitor to tackle the continent's grueling terrain. In February, 9-year-old Nikolas Toocheck completed Antarctica's White Continent Marathon with his dad. However, due to bad weather, the competitors were "forced to stop after 18 miles to board a plane to Chile" to complete the race.
Like Vinecki, Toocheck also has a goal of competing in marathons on each of the seven continents. Another big-hearted youngster, Toocheck, now 10, races to raise money for the non-profit Operation Warm.
For more on Vinecki and her foundation, visit the Team Winter website and Facebook page.
BEFORE YOU GO