A pit bull shot and wounded by a NYPD officer in Staten Island is receiving some needed support from outraged animal advocates.
Two-year-old Baby Girl is in stable condition and being treated at Garden State Veterinary Specialists, where doctors say although the bullet missed hitting her vital organs, the shot left her with seven holes in her intestines.
Update: Baby Girl died on April 11, as reported by The Staten Island Advance.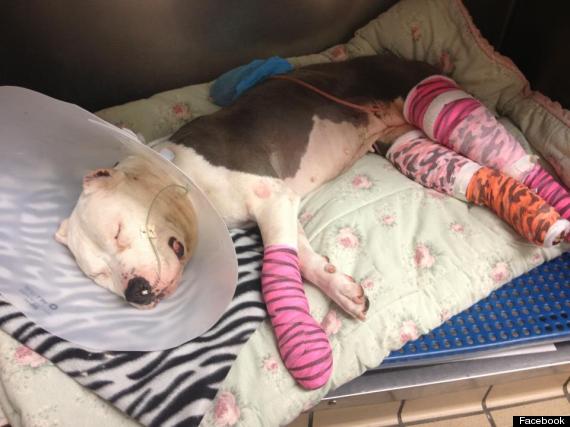 Now, with the help of a social media campaign launched by Special Needs Animal Rescue & Rehabilitation, Baby Girl has thousands of online friends who are raising funds to cover her medical expenses in hopes that she'll make a full recovery.
As of Wednesday, supporters have raised $2,500 of the $8,000 medical bill.
The NYPD claimed Baby Girl was involved in a fight with two other dogs when she bit her owner Patricia Ratz.
In an attempt to save Ratz, officers say they opened fire and wounded the dog.
But Ratz, who was walking the dogs with her sister at the time, disputes the account.
"We had them separated, we had everything calm," Ratz said. "A cop comes from the street with her gun pointed straight at the dogs, and she just started shooting. She could've shot me, or my sister, or the kids [in the park].
The NYPD now says the incident is under investigation.
Months prior to the shooting, Baby Girl was up for adoption. Animal activist Courtney Beelew helped her find a home.
"This is not an aggressive dog," Beelew said. "She has never had an aggressive incident."
You can watch an adorable video of Baby Girl playing with a rabbit below.
If you want to help Baby Girl's recovery or track her progress, go here.
BEFORE YOU GO
PHOTO GALLERY
NYC Animals For Adoption