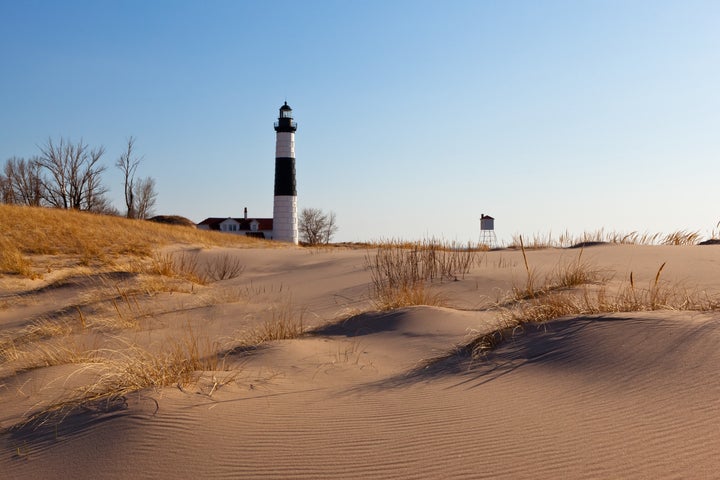 Last August, Gov. Rick Snyder (R) signed legislation that changed the development standards for landowners on privately-held sections of the dunes. Since that time, nearly 50 applications requesting permission to develop on the dunes have been submitted to the state, the Detroit News reports. On Monday, the first of these requests will be getting a public hearing, sponsored by the Michigan Department of Environment Quality -- and it's pitting conservationists against private developers.
The case involves the Bro G Land Company, which wants to build a 1,200-foot driveway to a private residence that would stretch across a critical dune habitat on Lake Michigan owned by White River Township, MLive reports.
William R. Gezon of Jenison, managing partner for the company, told the news site that Bro G just wants to make use of an easement that existed before the township bought the land and helped create a dune sanctuary in the 1980s.
Opponents like state Rep. Collene Lamonte (D-Montague) worry that building the driveway would disrupt the dune's habitat. She told the News that building the driveway over the dunes was a "ludicrous" proposal.
The Michigan Environmental Council (MEC), an advocacy coalition comprised of more than 60 groups, plans to speak at Monday's hearing. They have been critical of both the project and the state's new rules.
"Michigan's Critical Dunes laws have protected the state's most striking and globally rare freshwater dunes for decades," said James Clift, MEC policy director. "Now lawmakers have chopped some of those protections at the urging of a handful of developers who didn't want to play by the rules. This is the result – a rush to jam a road into a steeply sloped dune and through a beloved public park."
The MEC also pointed out that under the law, builders' own engineers would be responsible for best practices for constructing on the fragile habitat rather than experts or state officials.
Although efforts to build a driveway on the land have been declined in the past, the state's new legislation now gives landowners much greater power to develop on dunes. Gov. Snyder, in a statement released last August, said the legislation was the result of a "difficult compromise."
"Michigan's sand dunes are environmental treasures that must be protected," Snyder said. "At the same time, the state must recognize private property rights and our responsibility to correct laws that put us at risk for potentially dozens of multimillion dollar lawsuits."
The new rules, which are likely to create more confrontations as other requests are considered, have prompted strong reactions on Twitter.
Ultimately, the future of the White River dunes will be up to the Michigan Department of Environmental Quality. The agency's public hearing will take place April 15 at 6 p.m. at Montague High School auditorium in Montague, Mich. They should reach decision on the matter by May 13, according to MLive.
BEFORE YOU GO
PHOTO GALLERY
Pure Michigan Photo Contest