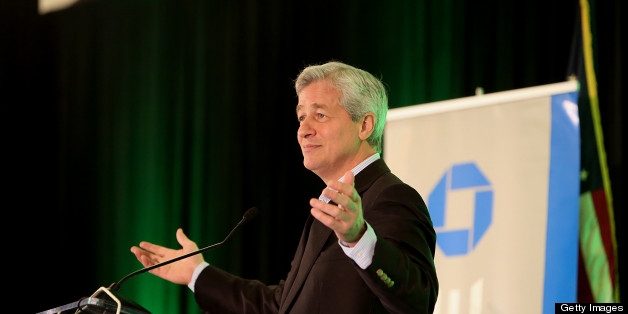 Once upon a time, not long ago, oil companies were so despised that they had to downplay their massive profits in order to keep the angry mobs away. The banking industry is now learning how that feels.
Over the past few days, our biggest, least-failingest banks have been reporting massive quarterly profits, as has become the norm in recent years. JPMorgan Chase's profits were up 33 percent. Citigroup, which nearly didn't make it out of the financial crisis alive, reported a 30 percent jump in earnings. Bank of America's earnings rose nearly sevenfold from a year ago, and that was not enough to satisfy finicky investors, who expected more.
This should be great news for an industry less than five years after its near-death experience, but instead, bankers have reason to worry that their cash haul is attracting the wrong kind of attention. Peter Eavis wrote in the New York Times on Thursday that banks' "ballooning bottom lines could embolden the lawmakers and regulators who want to introduce additional measures to overhaul the banking system."
Regulators and lawmakers want the banks to hold more capital to protect against future crises and prevent the need to bail out more failing banks. The banks complain loudly that holding more capital will crush their profits and the economy, but that argument is somewhat harder to make over the din of the Money Truck backing up to your six-car garage.
If this sort of profitability keeps on much longer, banks may find themselves being sheepish about their profits rather braying in press releases about all the records they're setting. Back in the mid-2000s, when oil companies were the least-loved companies on earth and Democrats in Congress were gearing up to impose "windfall" profits taxes on them, oil companies were careful not to use the word "record" in their earnings releases, even though they set records repeatedly.
Exxon Mobil earned a jaw-dropping $10 billion in one quarter in 2005, a record for any company, but instead of bragging, Exxon tried to find ways to prove it really wasn't all that profitable, if you just crunched the numbers the right way.
To be fair, the odds of the banking industry ever hauling in as much cash as the oil industry look pretty slim right now. Bank earnings in the latest quarter have been cosmetically enhanced by such accounting tricks as cutting loss reserves, and revenue has been falling.
The oil industry is still the most-hated industry in the U.S., according to annual Gallup polls.
But the banking sector has screamed up the charts, and not counting the always-hated federal government, it was No. 2 with a bullet as of Gallup's most recent poll, taken way back in August 2012. Fifty-three percent of Americans surveyed had a negative view of banks in that poll, up from just 18 percent in 2007, before the crisis. The percentage of people with a positive view of banking has plunged to 25 percent from 50 percent in 2007.
The oil and gas industry's image has improved slightly during that time, with the percentage of people holding a positive view of it rising to 22 percent from 19 percent in 2007 and the percentage holding a negative view dipping to 61 percent from 67 percent.
Even without making tons of money, the banking industry clearly has an image problem.
"You know when oil and gas executives are saying, 'Well, at least we're not a bank,' that things are not in good shape for the banking industry," Susan Ochs, a fellow at the Aspen Institute and a former senior advisor to the head of TARP, said at a panel in New York earlier this week.

BEFORE YOU GO
PHOTO GALLERY
Bankers Who Want To Break Up Big Banks