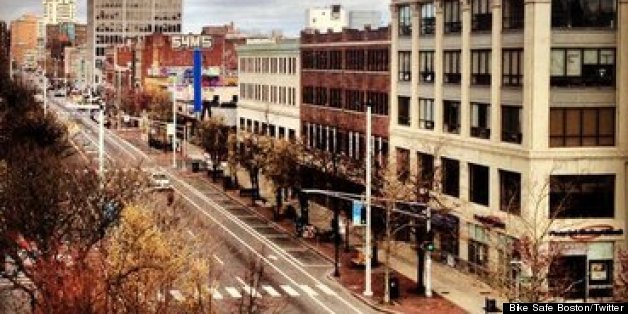 Boston and surrounding areas are on lockdown Friday as police continue to hunt for Dzhokar Tsarnaev, the second suspect in the Boston Marathon bombing.
Police told residents to stay inside with their doors locked and answer the door for no one but authorities in uniform. Spooky photos of nearly empty streets have been coming in over social media and wire services.
PHOTO GALLERY
Boston Locked Down, Deserted During Manhunt
Below, a live blog of events as they unfold.
04/20/2013 11:12 PM EDT
How Investigators Found The Suspects
The Washington Post has published a long account of investigators' exhaustive efforts to find the Boston Marathon suspects using mountains of video footage and photographs, as well as other leads. An excerpt:
Quickly, the authorities secured a warehouse in Boston's Seaport district and filled the sprawling space: On half of the vast floor, hundreds of pieces of bloody clothes were laid out to dry so they could be examined for forensic clues or flown to FBI labs at Quantico in Prince William County for testing. In the other half of the room, more than a dozen investigators sifted through hundreds of hours of video, looking for people "doing things that are different from what everybody else is doing," Boston Police Commissioner Edward Davis said in an interview Saturday. The work was painstaking and mind-numbing: One agent watched the same segment of video 400 times.
Read the whole thing here.
BEFORE YOU GO