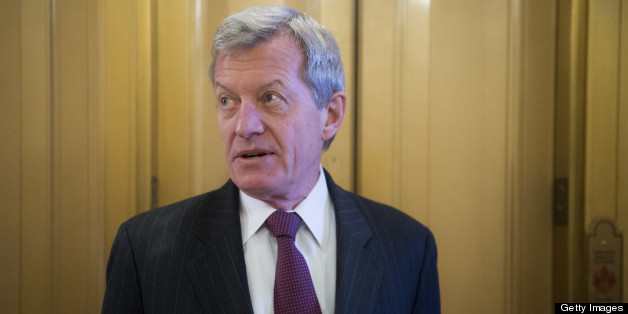 The Progressive Change Campaign Committee announced on Friday a new ad attacking Sen. Max Baucus (D-Mont.) for his vote against background checks.
The ad is the first of four in a $100,000 campaign targeting the Democratic senators who voted against the Manchin-Toomey amendment to expand background checks for firearm purchases. The other Democrats opposing the legislation were Sens. Mark Begich (Alaska), Mark Pryor (Ark.) and Heidi Heitkamp (N.D.).
Signed by more than 75 gun owners, the ad targeting Baucus is scheduled to run Sunday in seven newspapers across Montana, where the senator is up for reelection in 2014: the Billings Gazette, Montana Standard in Butte, Independent Record in Helena, Missoulian, Bozeman Daily Chronicle, Daily Interlake in Kalispell and Ravalli Republic in Hamilton.
"Senator Baucus, it was WRONG to vote 'no' on stopping gun violence," the ad states. "Seventy-nine percent of Montana voters support background checks. Stand with us, not gun manufacturers. Support sensible gun laws, and keep our families and communities safe."
In the debate on reducing gun violence, Baucus, who holds an A+ rating from the National Rifle Association, has said he is focused on the enforcement of existing law.
See the full ad below: