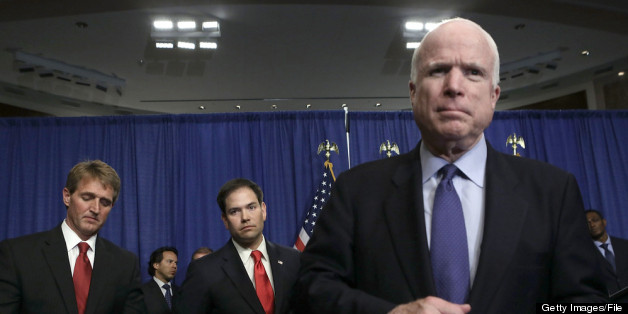 PHOENIX - Approval of a comprehensive immigration plan with Republican votes would enable the party to once again compete for Latino votes here, Arizona's senior U.S. senator said Thursday.
It would not be "helpful" if the bipartisan proposal by the "Gang of Eight" is sidelined because Republicans who control the House - and have enough votes in the Senate to filibuster - refuse to go along, John McCain said Thursday.
"I think it's very obvious, as we know, the Republican Party has less support from the Hispanic community in the recent elections," he said in a joint telephone news conference with fellow Arizona senator and co-sponsor Jeff Flake. That clearly played out in the presidential race, when 71 percent of Latinos voted for President Obama.
Read more on Capitol Media Services
BEFORE YOU GO
PHOTO GALLERY
Deferred Action for Childhood Arrivals