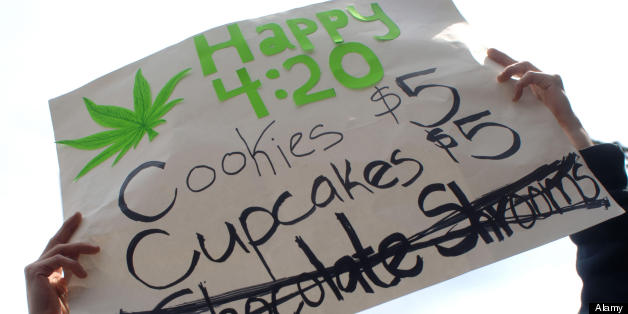 Well that's one way to celebrate 4/20.
Responding to reports of a home invasion in Canada, police came across something else unusual instead -- 8,000 suspected marijuana cookies.
The baked goods, which are believed to be laced with marijuana, were seized from a house in British Columbia Thursday after the home's resident reported an attempted break-in around noon. Though the two male suspects fled on foot, police did not walk away empty-handed.
"I've never seen anything like it before. It's an unprecedented number of cookies," White Rock Royal Canadian Mounted Police Constable Janelle Shoihet told CBC News. "It was a bit like a bakery in there."
According to The Province, police said the 22-year-old man living in the home managed to drive off the two attackers after they assaulted him with a crowbar.
Authorities arrested the man, along with two unidentified females, aged 20 and 54, after finding the batches of cookies and an unspecified amount of marijuana. All three were charged with possession of controlled substance for the purpose of trafficking, which carries a potential sentence of jail time under Canada's Controlled Drugs and Substances Act.
Though possession of marijuana is currently illegal in British Columbia, a recent poll suggests 75 percent of adult residents support a trial program that would regulate recreational pot use.
Every year on April 20, marijuana enthusiasts gather in front of the Vancouver Art Gallery to celebrate the date. As The Huffington Post's Ryan Grim reports, the term "420" -- though commonly used by police to designate marijuana -- was actually coined by a group of friends in California in the early 1970s.
BEFORE YOU GO