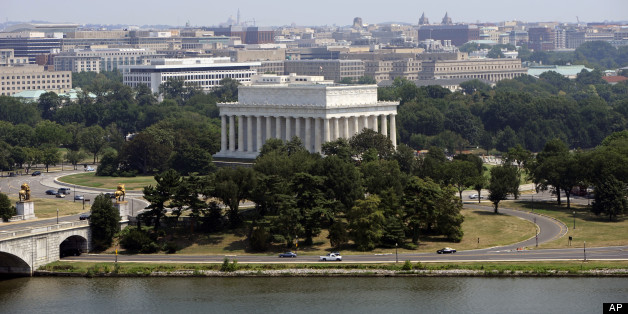 Americans may be shocked by the Boston Marathon bombings and worried about future attacks, but their reaction pales to what they were feeling after 9/11. And a local poll in L.A. finds a clear front runner, while an automated survey at the center of a minor flap in D.C. has lessons to teach about pre-election poll reliability. This is the HuffPost Pollster update for Monday, April 22.
PPP POLL AT CENTER OF DC ELECTION CONTROVERSY - Yes, it's just a District of Columbia special election for city council, but this story makes a point here about the challenges facing all surveys. Bear with us.
Monday's Washington Post: "D.C. Council candidate Elissa Silverman tried to broker a deal to get Matthew Frumin to drop out of Tuesday's election for an at-large seat, a last-ditch effort to reduce the number of Democratic candidates counting on support from the city's majority-white neighborhoods...In Silverman's discussion with Frumin about a week ago, she shared with him a private poll that indicated she had more citywide support than he did." [WaPost]
The automated poll in question is already 10 days old. It was conducted by Democratic firm Public Policy Polling (PPP) for a partnership of the Drug Policy Alliance and the Marijuana Policy Project Foundation. Among the registered voters who said they were "definite" or "probable" to vote in the non-partisan election, nearly half (43 percent) said they were still undecided. Among those with a preference, Democrat Anita Bonds (with 19 percent) ran slightly ahead of Republican Patrick Mara and Democrat Elissa Silverman (with 13 percent each). [DCMJ poll]
Silverman responded to the story by releasing the full text of her email exchange, in which Frumin questioned the merits of the poll. Silverman: "I think the poll--in the absence of Nate Silver--creates a narrative that will be hard to push against." Womp-womp. [WaPost]
Monday's Post story will likely give the survey far more attention than the poll itself received, but that effect on "the narrative" aside, we can think of at least four reasons to take this particular survey with very large grains of salt:
No cell phones - First, as noted by the Post's Debonis and Clement a week ago, "PPP's automated polls do not reach cell phones, which is a particular weakness in the District, where 2011 CDC data show 44 percent of residents are cell phone-only and unreachable on a landline phone." [WaPost]
Listed phones - Second, PPP draws its samples from lists of registered voters. In DC, the official lists have no phone numbers, so the pollsters work with a vendor that looks up phone numbers for listed voters in published telephone directories. The "match rate" in DC isn't great. The counts posted on the web site of one vendor (not the one typically used by PPP) shows just under half of their DC registered voters (47 percent) have phone numbers appended, and some of these are cell phones that would be legally out of reach from PPP's automated calls. [Labels & Lists; PPP].
Uncertainty and likely voters - As candidate Frumin noted in his email to Silverman, 69 percent of the registered voters sampled said they would definitely vote: "Perhaps I am missing something but that does not strike me as likely." Frumin has a point. In a very similar special election two years ago, just 10 percent of DC's registrants voted. He was also right to note that a poll conducted nearly two weeks before an off-off year election showing 43 percent undecided offers "all kinds of room for dramatic movement." [DCBoE; WaPost]
Response rates -- The Pew Research Center reported in 2012 that its average response rate using live interviewers had fallen to 9 percent. Response rates are typically lower in urban areas, but in this case we have a bit of personal anecdotal evidence: HuffPollster (aka @MysteryPollster) was a respondent for this poll. And another never released robo-poll conducted the same week. And four or five other polls on D.C.'s mayoral elections in 2006 and 2010. And we're not making this up. [@MysteryPollster; Pew Research]
How is that incredible streak of luck possible? Probably because HuffPollster has a listed landline phone and makes it a policy to respond to every survey call (we write about surveys for a living, after all).
But that combination is obviously very rare and potentially a source of survey error. It should give anyone pause about placing too much faith in this survey in an area where response and sample coverage is as low as it appears to be in D.C.
REACTION TO BOSTON BOMBINGS FALLS SHORT OF 9/11 - Just 38 percent say they were following the Boston bombing events "very closely," compared to 74 percent who said the same following about the September 11, 2001 attacks 12 years ago. WaPost's Marc Fisher: " In 2001, most Americans — 53 percent — said they had changed their daily activities because of the attacks; only 6 percent said so last week. Similarly, 49 percent of those surveyed after Sept. 11, 2001, said they had difficulty concentrating on normal activities because of the attacks on the World Trade Center and the Pentagon; only 9 percent reported that kind of impact last week." [WaPost, full results]
GARCETTI LEADS IN L.A. MAYOR'S RACE - "Eric Garcetti has opened a commanding 10-point lead in the Los Angeles mayor's race over rival Wendy Greuel...according to a new USC Price/Los Angeles Times poll. A month before the May 21 runoff, likely voters favored Garcetti over Greuel by 50% to 40%." LA Times
Gruel attacks poll - Kevin Roderick: "Greuel immediately attacked not the poll results, but the Times. 'I'll let you draw your own conclusions -- but there are a few reasons why this poll doesn't stand up under scrutiny,' she says in a blast email from her campaign. 'I know many of you think the Times has been overly harsh about my campaign and my message -- they endorsed my opponent, but that doesn't seem to be quite where they stop.'" [LA Observed]
New York Times LA Bureau Chief Adam Nagourney: "Greuel trashes LAT poll showing her 10 points behind Garcetti. Tuf case 2 make. Poll is independent, conducted by an R & D pollster." [@adamnagourney]
MARKEY LEADS LYNCH IN PRE-BOMBING POLL- A new MassLive.com/Western New England University Polling Institute survey, conducted mostly before the Boston bombings, shows Rep. Edward Markey leading Rep. Stephen Lynch (44 to 34 percent) among 270 likely Democratic primary voters. The lead is on the edge of statistical significance given the small sample size, but it's consistent with previous polls this year, most of which have shown Markey leading. [MassLive, Pollster MASen Chart]
Bombing effect? Political Wire's Taegan Goddard: "What's not clear is how accurate a poll conducted in the aftermath of the Boston Marathon bombings will prove in the end." Yes, a seismic event like the bombings will affect the political environment in Massachusetts, but it will take a clear contrast between the candidates specific to the bombing or terrorism to shake up the race. [Political Wire]
MAJORITY SUPPORT MARIJUANA LEGALIZATION - Pollster's Emily Swanson: "A clear majority of Americans say that marijuana should be made legal if it will be taxed and regulated like alcohol, even though few say they use marijuana themselves, according to a new HuffPost/YouGov poll." [HuffPost]
ROVE AND KOCH BROTHERS VIE TO CONTROL GOP DATA - Politico's Vogel and Haberman: "Instead of fighting Democrats, the right's would-be data wizards are going after each other with claims of cronyism and incompetence, as well as cutthroat bidding wars and threats of legal action. Politico
Sasha Issenberg: "Seems like Republicans still haven't mastered the ratio of time spent puzzling over where to organize data to time spent learning analytics." @VictoryLab
MONDAY'S OUTLIERS - Links to more news at the intersection of polling, politics and political data:
Obama for America can sell its " treasure-trove of voter data" to candidates "at fair-market value," aims to keep Democratic presidential-year voters fired up for 2014. [Politico]
Sean Trende sees the gun control vote having little effect on the 2014 elections. RealClearPolitics
Two political scientists find state legislators perceive their constituents to be more conservative than they are The Monkey Cage
Scott Rasmussen wants Republicans to get over the "makers vs. takers" mindset. RealClearPolitics
"Numbers Guy" Carl Bialik reviews the Rogoff-Reinhart Excel error and other problems that show "how fragile macroeconomic findings can be." [WSJ]
Paper finds that Bo "didn't fetch many votes for Barack Obama in 2012," dings previous Bo Obama research for its "tongue-in-jowl tone." [Political Science & Politics]
Ariel Edwards-Levy contributed reporting.