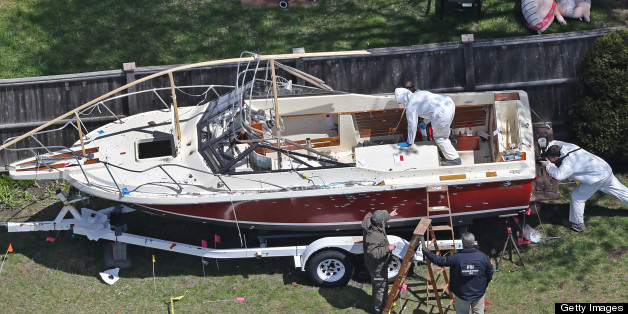 The man who spotted the surviving suspect behind the Boston Marathon attacks is being hailed a hero, but supporters want to do even more to honor his efforts.
After an extensive manhunt that lasted five days, authorities were finally able to nab the surviving suspect behind the bombings thanks to David Henneberry's bravery and intuition, TODAY reports. After the Watertown, Mass., resident pointed police to his boat where the bleeding Dzhokhar Tsarnaev, 19, was hiding, a two-hour firefight broke out, which led to Tsarnaev's capture, but also severely damaged Henneberry's boat, according to the New York Daily News.
"That boat's his baby. He takes care of it like you wouldn't believe. And they told him it's all shot up," Henneberry's friend and neighbor George Pizzuto told ABC News. "He's going to be heartbroken."
After escaping a shootout that left his brother dead early Friday morning, Tsarnaev, who was also critically injured, hid in the 22-foot cruiser for most of the day Friday, the Daily News reports. Henneberry decided to investigate the backyard scene after noticing the boat's tarp had been cut.
As supporters continue to praise Hennebrry for the critical role he played in the capture, two groups have stepped forward to offer him the ultimate reward –- replacing his beloved boat. As of press time, the "Let's Fix David Henneberry's Boat," raised $8,000 and the "Together We Can Help Buy Dave Henneberry A New Boat," garnered 670 likes on Facebook.
"I think this is awesome," one commenter wrote on Facebook, "out of tragedy comes human kindness...this is a perfect example."
BEFORE YOU GO
PHOTO GALLERY
Donors Help Man Who Spotted Boston Bombing Suspect Buy New Boat